Social media is a top-of-the-funnel marketing strategy used to create brand visibility and recognition. "Top-of-the-funnel" refers to the classic marketing funnel used to describe turning marketing qualified leads into sales qualified leads. Or, in other words, warming up cold contacts so you can convert them into customers. With social media, the goal is to provide quality content to attract new page followers and build trust with an online community. When you have a prospect's trust, you're more likely to win their business.
Why Social Media is Important for Your Brand
Brand visibility is largely dependent on your online presence. Every marketer knows that in order to gain new customers, you first need to get your message in front of them. Can you guess where this is going? Yeah- your customers are primarily all online. You don't need to track them down or buy a mailing list, you just need to build your online presence in places where your customers are already spending their time - like social media. Check out these stats that show just how many US adults are online no matter what community they live in or age they are.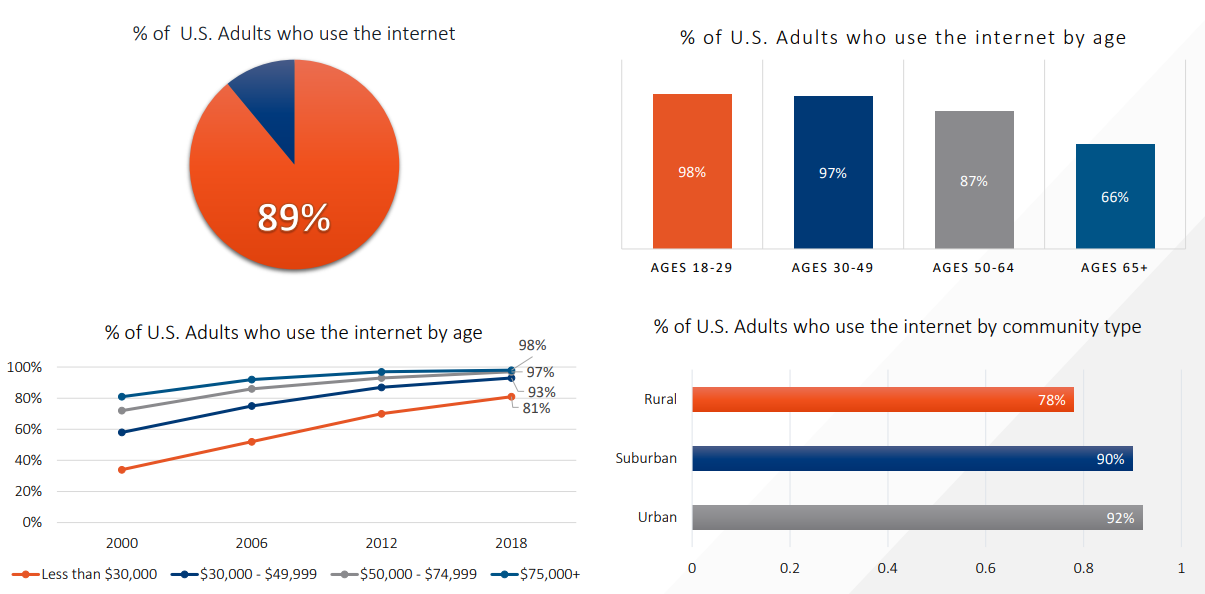 It's also important to note that community banks are not an exception to this rule. As you can see, 78% of rural community members and 90% of suburban community members are online. Even in older communities, more and more individuals aged 65+ are online which is shown in the stats above as well.
On top of a vast majority of adults being online, COVID-19 changed the world of banking forever. Community banks that relied on in-person interaction had to close their lobbies and adapt to the world of virtual banking- and your marketing strategy needs to follow suit to create a streamlined process for an individual to go from prospect to customer. By this, we mean make it easy for your local community to find you online and then follow through on a call to action, like opening up a checking account online. The less work it is to choose you as their trusted bank, the more likely they are to buy in.
Getting Started with Social Media Marketing
Many marketers tend to jump into social media without thinking about what type of content to share with the world, and then the message gets messy. When the message is messy, there's no real course of action for your followers to engage with the bank beyond social media.
Good examples of leading people to engage with the bank beyond social media include:
Learning more about your products and services on the website
Using your financial calculator
Reading your blog
Signing up for your newsletter
Utilize content like the examples above to establish your bank as an expert and identify your competitive advantages. If you're unsure about what your competitive advantages are, use the chart below to determine those advantages.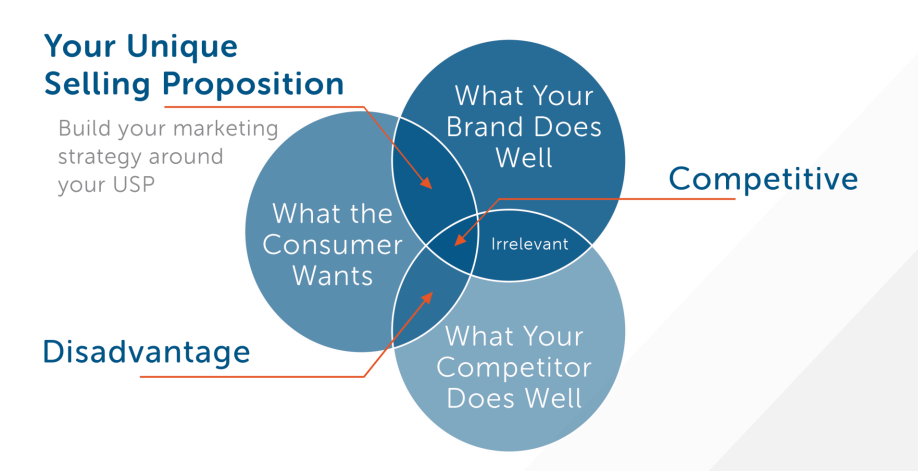 Once you establish your competitive advantages and where your staff shines as industry experts, it's time to plan out the type of content and which social media platform to use. This may seem like a lot of work up front, and it is, but the more work you put into planning out your social media strategy, the more success you will have. Keep reading to get ideas for what platforms to use and what content is the best fit for each.
Best Social Platforms for Banks and How to Use Them
The two best platforms for banks are Facebook and LinkedIn because these are the platforms that most adults in the US use for a combination of social and business networking. If you've heard of newer platforms that are rapidly becoming more popular, but aren't on this list, odds are it's because they don't serve the right demographic. For example, TikTok has become popular with pre-teens and teenagers across the US, however this is not the age group that has the decision-making power and finances to open their own bank account. The information below will help you further break down what type of content belongs on each platform.
Facebook
Best suited for: your first social profile, community events, highlighting your staff members, building up your brand for relatively low investment
Post 2-3 times per week (don't overload your audience with info)
Respond to messages, reviews or comments in 12 hours or less (the faster you respond, the better your overall presence will be)
Use page likes ads to grow your audience
Post to Facebook Stories during community events or to showcase what's happening around the office
Promote events you sponsor
LinkedIn
Best suited for: your professional image, connecting your bank to community organizations, commercial/business relationship building, promoting your bank as a great place to work
Optimize your About Us section with most important products/services
Posting 4-5 times per week; mix of content (don't post this much if you don't have quality content to show in each post)
Actively add your employees with LinkedIn profiles
Utilized Sponsored Content, Sponsored InMail and Text Ads
Twitter
Best suited for: being an active participant in digital conversations, customer service support, increasing visibility online
Post multiple times per day
Must actively monitor comments, respond and interact with individuals and organizations
Not a primary channel for smaller banks
Instagram
Best suited for: showcasing all the fun things/community involvement your bank does through photos, videos and Instagram Stories
Need to post almost every day to show up in your audience's feed
Creating more lifestyle/community type posts means you most likely need a dedicated resource
If you're looking for a dedicated team to help with your social media presence, we can help! We offer ongoing social media assistance that includes content creation, graphic design and ad scheduling. Fill out the form below to ask about our social media platform, or just to ask us a social media question. We're here to help.