Why We Offer Templates
After working with healthcare professionals for over two decades, we know that healthcare providers are looking for these four things when it comes to a website:
Easy to update platform for individuals who juggle multiple roles
Clean, mobile friendly design for customers
Content that clearly communicates who the business is and what they do
An affordable option that doesn't look "cheap"
That's where our medical website templates come in. We offer three beautifully designed medical website templates that are clean, accessible for individuals of all abilities and easy for the business to update. Choosing a medical website template over a custom design can:
Help you save money
Speed up the website development process
Offer a simple, easy-to-use web solution
Allow you to choose the design you like best
When you pick a medical website template, your brand colors, images and logo are all incorporated into the design so it really suits your business. Because they are pre-built, each site can be quickly developed and will be easy to manage later.
With a template, you're not only saving money, but you have a straightforward design that you can make changes to. Each template comes with our proprietary content management system, VPanel. Within VPanel, you can
Edit page content
Add images and link videos
Create new pages
Create stunning marketing messages to promote deals, services and more
When you purchase a template, you know exactly what it'll look like and our team of experts will go over the content with you before the new website is launched.
As business owners, you know your business from top to bottom, but you may not be as familiar with web design. With a template, information about your business is all you need to add! You don't have to worry about programming or design because that part is already taken care of. This way, you don't have to have a specific vision in mind and we can help you make something that's sure to suit your business's aesthetic and needs.
Benefits of Forbin's Templates vs. WordPress/Other Platforms
A free template or a WordPress template can seem like a great idea at first, but when it comes down to it – it's more work than it seems. With those other templates, you get to select a template you like, just like you can do with ours, but your support stops there. With many of these premade templates, you're creating the site yourself – meaning, you have to select the template, the page elements and modules, organize the layout and content, pick the colors, find the imagery and so on.
With VGM Forbin, our experienced UX Designers take care of all of that for you! Additionally, our UX Writers can help transfer your existing content or write fresh, new content for your page. They'll take care of the tone and message you want to relay to your customers. With other platforms, you'll be responsible for adding in all your own content, writing it and refreshing it.
Another great benefit of choosing a medical website template from VGM Forbin is we're here to help you every step of the way. You're assigned to a team of experts that includes a UX writer, UX designer, developer and project lead that ensure your project flows seamlessly from start to finish. If you have questions about writing or designing for the best user experience (UX), getting more online product sales or general website goals, reach out to us for a consult!
While you're away changing the lives of your customers for the better, we're getting your website ready for launch. That includes setting up the template you chose, ensuring it matches your brand, adding or writing content, and providing quality assurance so nothing is missed from your wish list! If you have questions at any time during the process, your project lead is there to answer them and stays in touch with you until you are completely comfortable and satisfied.
With a free template from another company such as WordPress or Wix, there is no support team or project lead to assist you throughout the process. Creating the website and maintaining it largely becomes your responsibility, which can be tough to do when you're serving your customers day to day.
Our VPanel is user-friendly too! We'll provide you with a site walkthrough and training when your project is complete. What this means is – we'll go over the finished product page by page to introduce you to your new website. Our team provides training on the website and content management system to ensure you feel comfortable using and updating it going forward. The best part? Your support doesn't end there. Our Customer Care team is always here to help, should you have any questions or need help down the road. You're always able to send us an email or give us a call. We also have training guides and videos to help you get to know your website if you prefer to do it yourself. If you need additional training for your staff, you're welcome to reach out to us.
A Quick Overview of Our 3 Top Templates
We have over a variety of templates for you to choose from but below, you will find our top three medical website templates. With inviting layouts that draw the consumers' eyes straight to the product, there is something for everyone!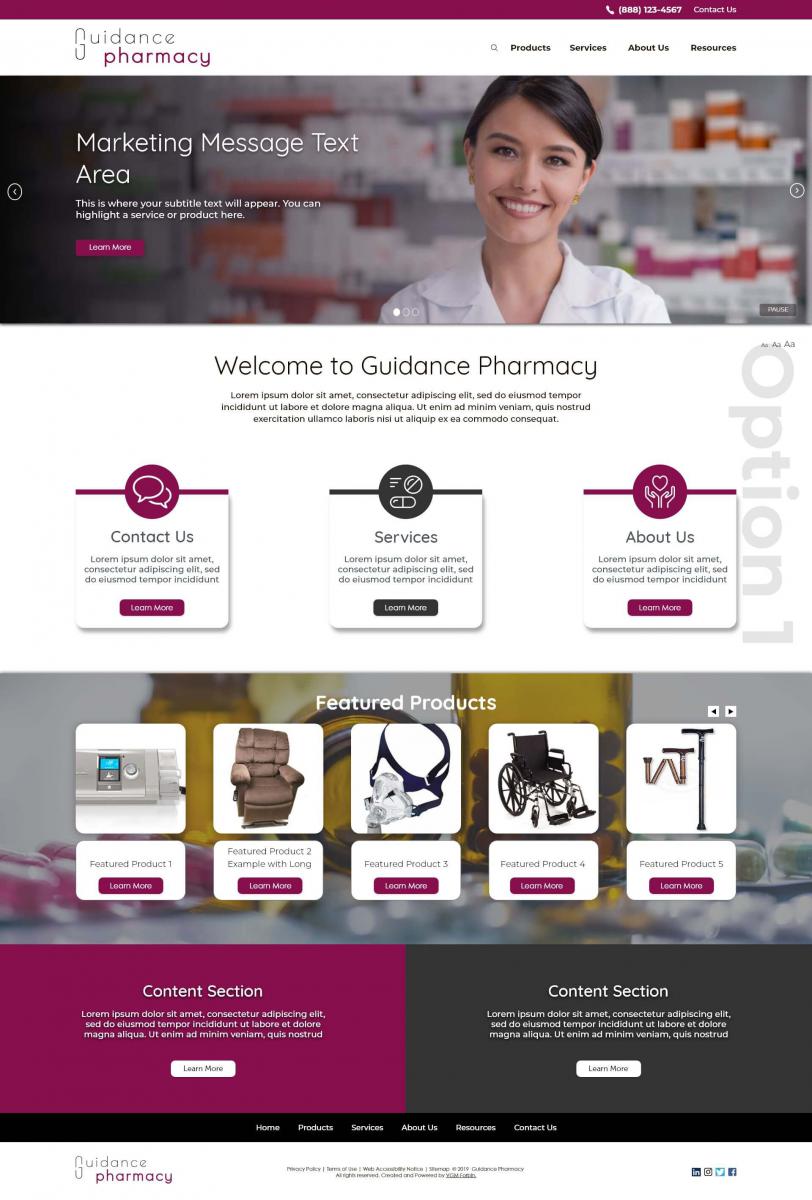 Template #1:
The Guidance Pharmacy Template features three customizable callouts where you can bring attention to important parts of your website such as your catalog, bill pay portal, contact page and more!
With the Featured Products section, you can highlight your bestselling and most popular products so your customers can find them right on the first page. The fewer clicks they need to make to get to where they want to go, the better!
At the bottom of the template, you have two text callouts where you can add more information about your business, your services or anything else you may want to emphasize. Our UX writers can help you decide what will suit your business and website goals and offer suggestions.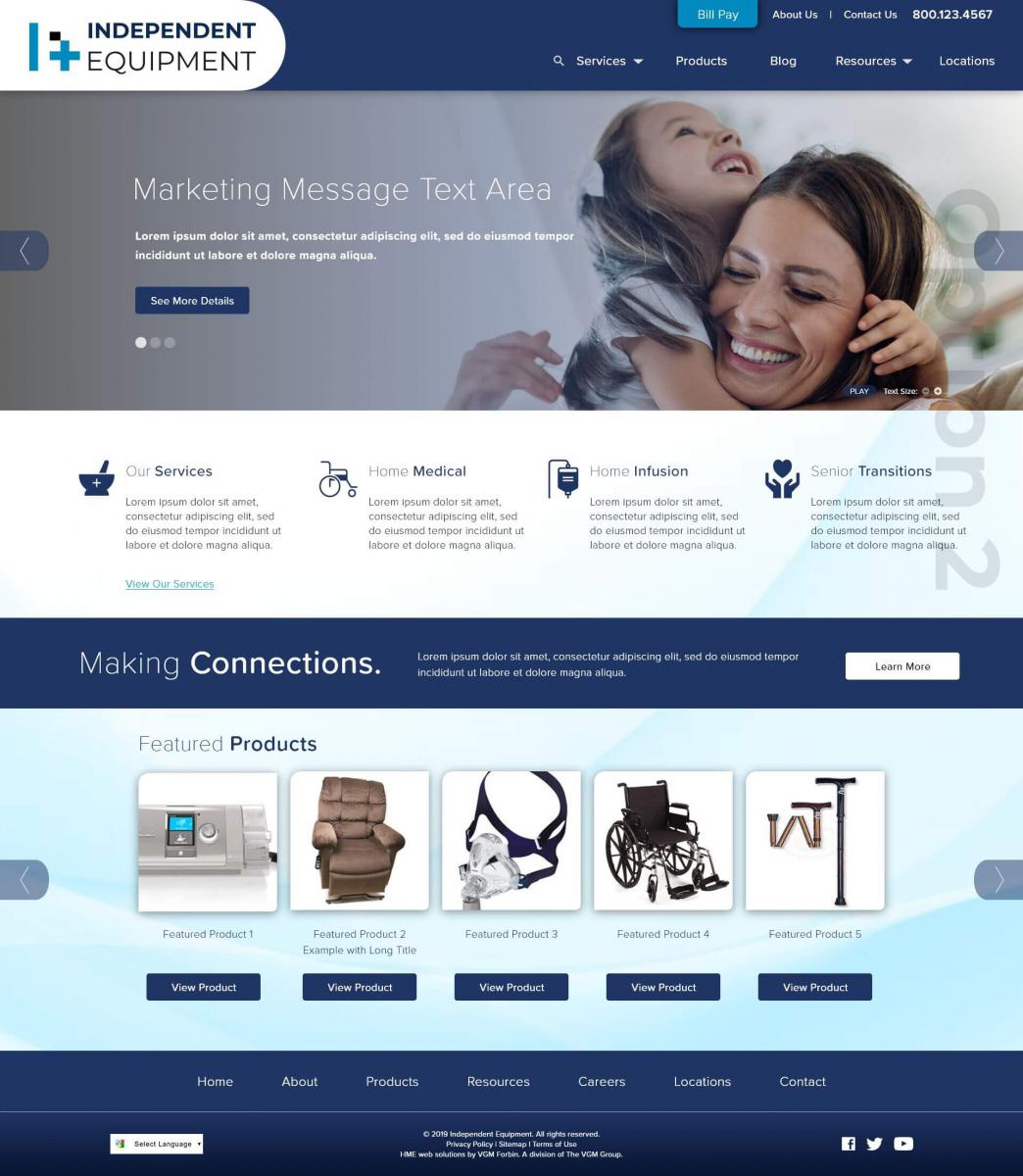 Template #2:
The Independent Medical Template is ideal for those who like a more streamlined and clean home page. This page, like all our home pages, features fully customizable marketing messages. This is a great place to advertise products, display important updates and news to your customers and list any coupons or changing holiday hours. This template has four callouts, a Featured Products section and a callout strip where you can easily direct people to a page, such as your locations, bill pay and more.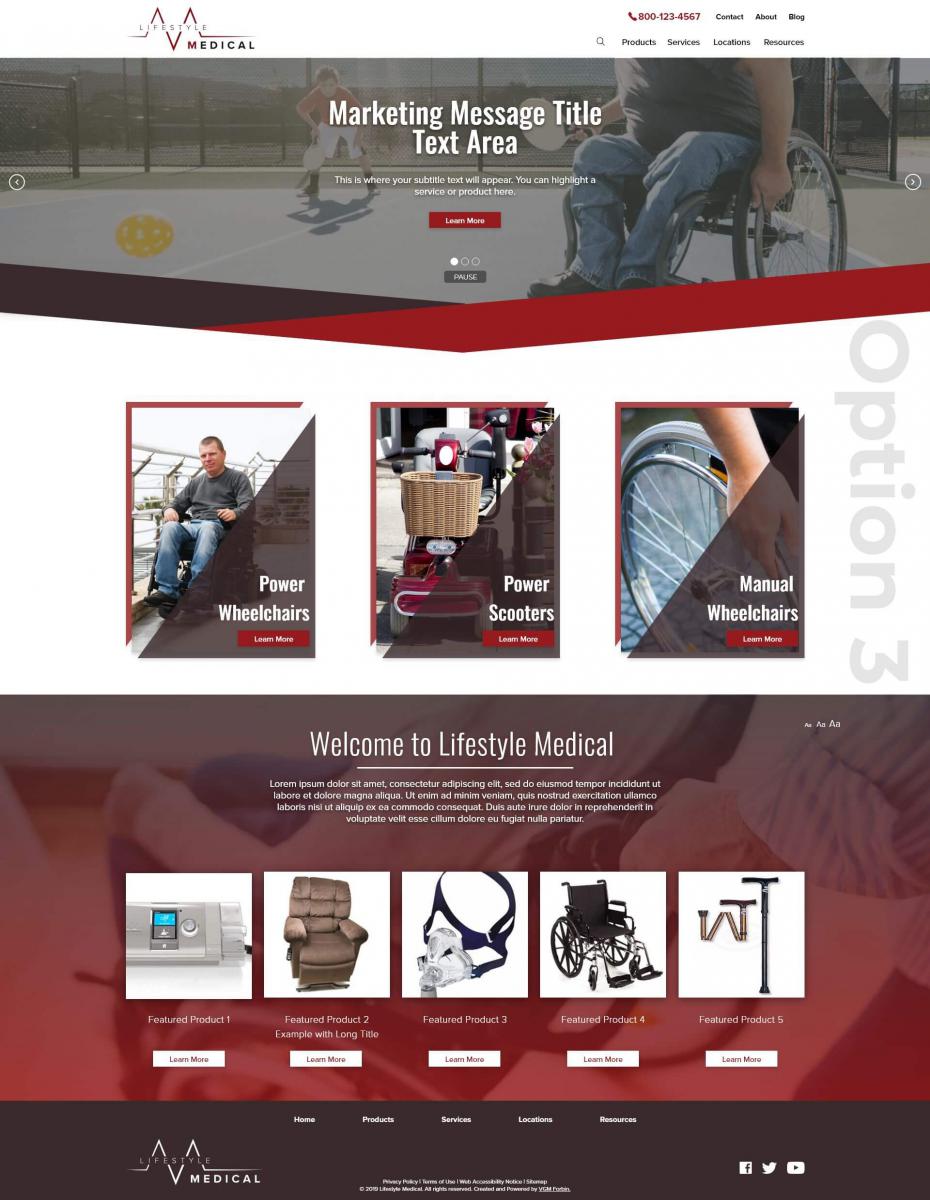 Template #3:
Our last, but not least, top medical website template is Lifestyle Medical. Lifestyle Medical features a modern design with similar sections. Here, you are opting for a more minimalist design that calls attention to the products you have to offer your customers. With three full image callouts and a Featured Products section, this is a great template for showcasing your products. You can also add an intro paragraph and have a marketing message to advertise with.
Overall, medical website templates are a great, budget-friendly solution to provide your customers with a functional, mobile-friendly website that helps them get the info they need. Whichever template you decide on, you will work with a team of web design and copywriting experts there to help you build an affordable website that meets the needs of your business. Instead of worrying about your website, our team can help you develop your personalized template and train you to use it. This way, you can focus on your customers and your growing business!
*These template examples feature fictional business names and information for presentation purposes.
TLDR;
VGM Forbin's medical website templates are an affordable option when you don't have the time or expertise to build your own templated website
Pick a beautiful medical website template that incorporates your brand elements
Enjoy a seamless website development project led by your own team of experts
Refer to a team of user experience and web experts for any questions or support
Receive training for yourself and your team on your new website and CMS
Easily edit pages, add content, pictures, hyperlinks and more
Why wait? Get your new website project in motion with the experts at VGM Forbin. If you have questions or are interested in starting a new project with us, simply fill out the form below and we'll get back to you!