If you have a business page on Facebook, you may have noticed a recent update or will very soon: the new Pages experience. So, what is this update and how do you use your business page since things are different now? Our social media strategists are here to help answer some of the most commonly asked questions about this new update!
What is Facebook's new Pages experience?
Facebook's new Pages experience consists of different elements – the biggest being you are now switching into your business profile before interacting with your page as an admin. Switching to this profile allows you to now have a dedicated News Feed as the business, updated admin controls, a redesigned layout and different insights. When you update from your classic page, you will need to switch each time from your personal Facebook page to the business page account in order to use its features.
How do I switch to my business's Facebook page?
Login to your personal Facebook page – this should be what users access the business page through. Facebook frowns upon using fake (gray) accounts that aren't linked to an actual person who could upload their license to prove their identity. Once logged into your personal Facebook page, look at your profile picture in the upper right. Click on that and see your business page logo. Once you click it, you will switch to your business page and everything you do will be as that business page admin. Remember to switch pages when wanting to interact as yourself again.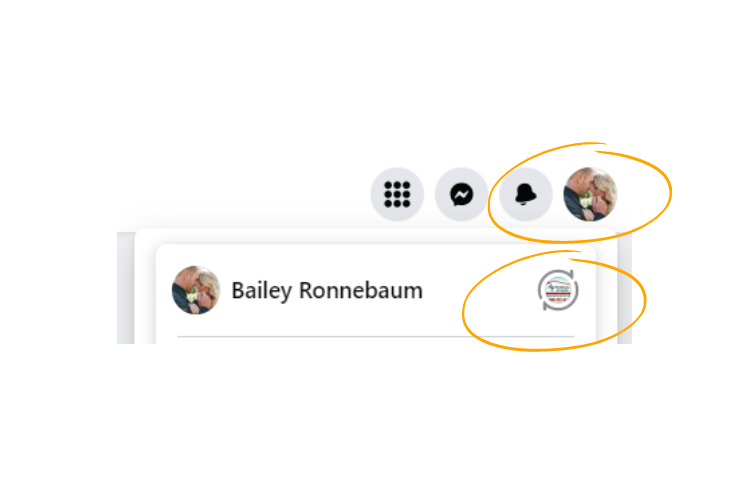 How do I add a page admin in the new Pages experience?
Once switched onto the business's page as shown above, you will click Manage on the right under your cover photo. Click Page Access on the left. Then click Add New by 'People with Facebook access' to add an admin. You can also choose to add someone by the 'People with task access' option if they only need limited capabilities. Here is an article explaining
How do I change my button on my business page?
You now will click the three dots below your cover photo and choose Edit Action Button. This will allow you to change your button to a different site, email, Facebook Messenger, and so on.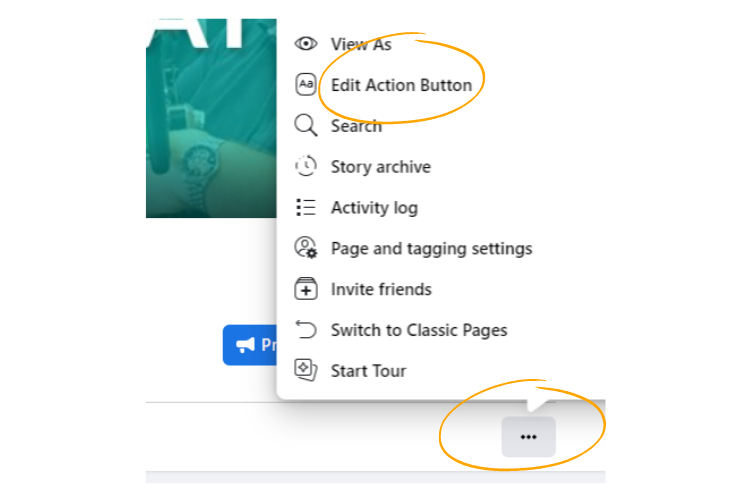 Can I edit my tabs on my Facebook business page?
Yes, to edit the tabs on your business page such as About, Photos, Reviews, etc, you should be able to click the dropdown More tab under your cover photo. Then click Manage Sections. This is where you can choose to hide the tabs you don't need shown.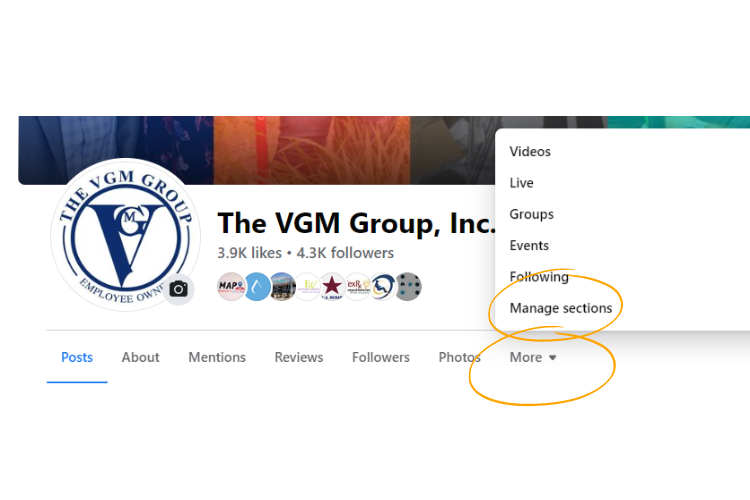 How can I make my Facebook business page better?
You want to utilize as many options as Facebook gives you. Here are some starting tips:;
Have your profile picture be your company logo
Have your cover photo updated to a fresh, crisp image – if you have text on it, make sure it's towards the center to make it visible on mobile, as Facebook crops the images, and you may miss some of the text when viewing it on your phone
Add the Action button as mentioned above
Add to each section of your About Us information – bio, category, address, hours, website, etc.
Fill out the Services tab with your different offerings
Hide any unused tabs as shown above
Have your Reviews turned on and respond to each one
Pin a new post weekly or monthly to the top of your page to get more visibility on the new product or announcement that month
Add more than one admin to the page so someone else always has access
Create a business manager so you truly own the page – explained below
What is Meta Business Suite?
Meta Business Suite is a place where you can manage posts and insights for Facebook, Messenger and Instagram all in one place. Facebook goes into some of the different Meta Business Suite tools here. However, one common question we get is how to post on both Facebook and Instagram through this platform.
To post on both Facebook and Instagram, go here after switching to your business profile: https://business.facebook.com/ Then you can make sure you're on your business page and click Create Post in the middle of the page. If you have Instagram connected, you will be able to select both, one, or the other. From here, you fill out all the normal post info and choose to Publish now or Schedule for later.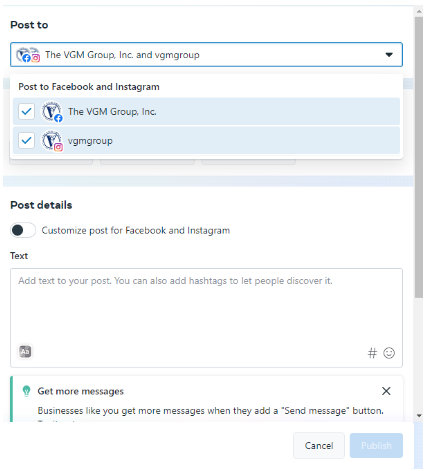 What is Facebook's Business Manager?
Facebook's Business Manager is the older version of one of Facebook's applications. This is originally where you can become the true owner of the business page and not just an admin. Other users can be added to the Business Manager as well so that more than one person always has access to the account that owns the page. This will all be access through your personal Facebook page still. Here's how you'd begin setting up your Business Manager and gain ownership of your page:
Setup your Business Manager through these steps.
If you already have one, go here: https://business.facebook.com/settings/
Once setup, you can scroll to the bottom left and click Business Info. Here you can fill out the company's info and choose a Primary Page at the top to connect the business to.
Once done, you can begin adding Users. Click Users at the top left and then People. Click the blue Add button and follow the steps.
To add a business page to the account, you can click Accounts and then Pages on the left. Click the blue Add button and choose the option that mentions "owning" the page if you want to be the true owner. Once you follow the steps, the current owner will have to accept the request.
From here, you can choose to add those in your Business Manager Users section to the page to have admin access.
Do note, there are many steps when it comes to the Business Manager, so sometimes there can be glitches to work around since Facebook isn't perfect.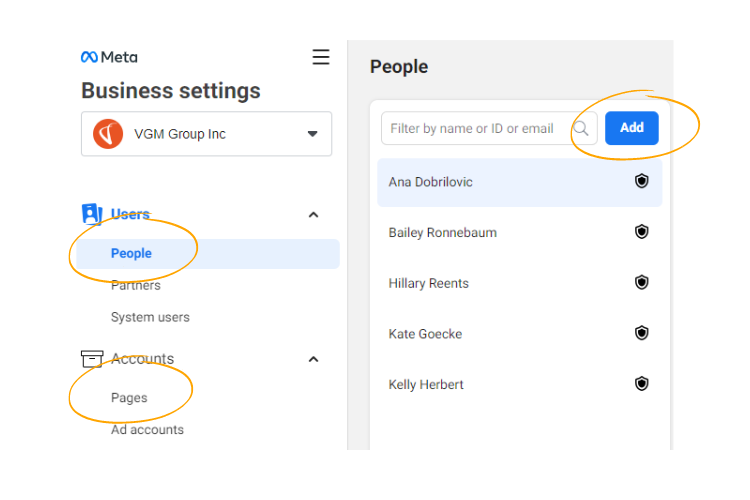 We hope this blog helps answer some of your questions regarding the new Pages experience so you can better utilize your business page throughout this update. If you have any questions or would like to look into social media postings from VGM Forbin, we are happy to discuss different social media solutions for your Facebook, Instagram, LinkedIn and other accounts! Contact our team today.