Overview
Medical Anesthesia Group (MAG) is a leading provider of anesthesia and perioperative services to hospitals and surgery centers in Tennessee, Mississippi, and Arkansas. MAG came to VGM Forbin seeking a new web solution that would not only highlight their services and facilities but would also enhance their ability to communicate with employees on a daily basis. VGM Forbin created a new marketing website and employee intranet area, giving MAG a web solution to improve the way they communicate with patients and employees, alike.
Goals and objectives
Create a new marketing website accessible from any device
Highlight each MAG Memphis location spread across three states
Create an employee intranet to include employee directory and scheduling updates
Provide an employee resource and documents library with varying levels of access based on employee roles
Sound like you? Fill out a CONTACT FORM OR CALL 877-659-5241 to talk strategy today!
Process and Insight: Identifying the Experience
MAG's web solution was created by Forbin's Custom Website Development team. Almost immediately, the project was divided into two key phases:
The marketing website
The employee intranet
With heavy collaboration from the MAG staff, Forbin created a website design that highlights the services available to patients, and where the patients can receive those services. Within the employee intranet, the goal was to create a functional platform to allow employees to easily find updated schedules and documents related to their role within the hospital or surgery center where they work.
The Solution
By creating this new, custom web solution, Forbin was able to streamline how MAG patients receive information about the services they can expect, and where they can find each hospital or surgery center where MAG offers anesthesia and perioperative services. Perhaps more importantly, Forbin was able to create a customized employee intranet area that allows employees at each MAG location across three states to connect with other employees, access documents related to their job role and view updated schedules.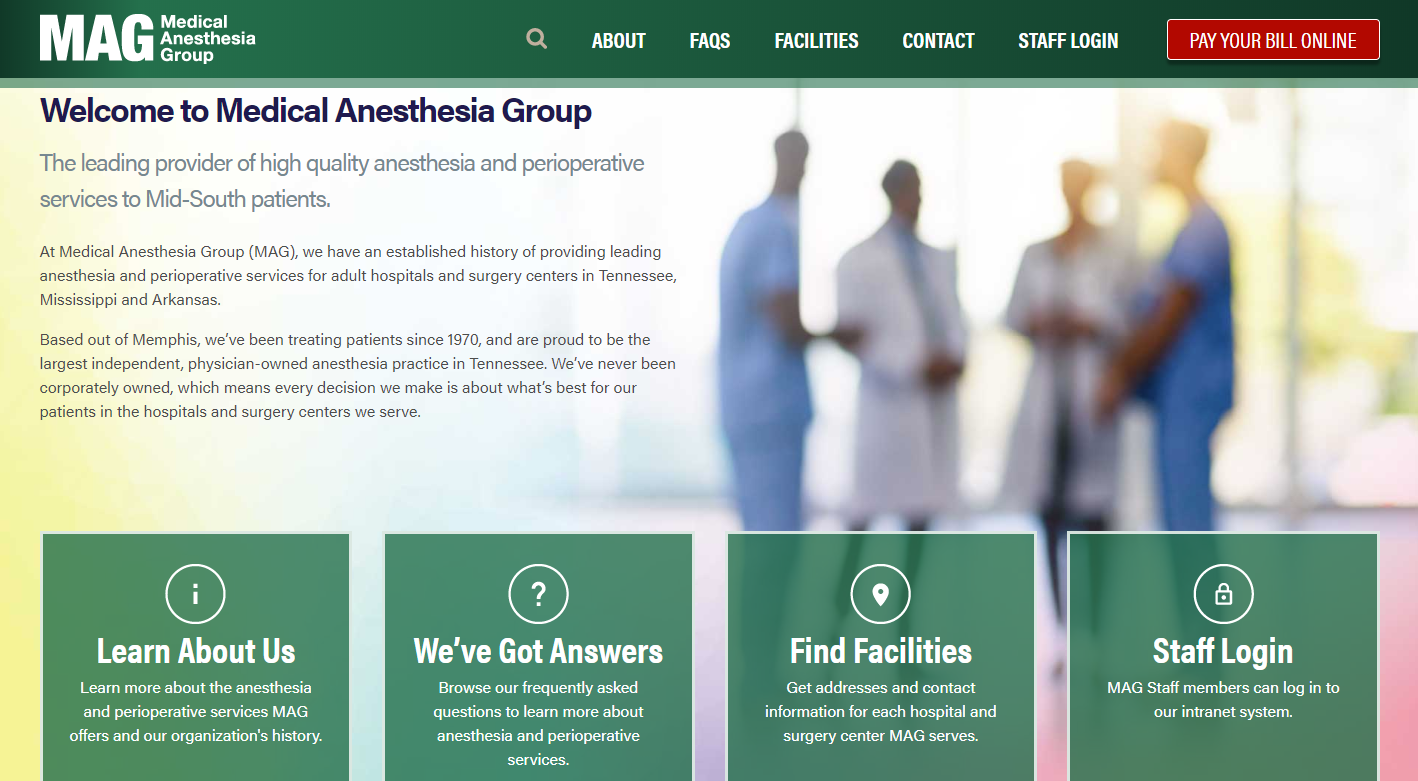 What the Client is Saying
"I wanted to take a moment to tell you how wonderful the Forbin Team has been throughout the development processes of our new website. I'm already getting responses from our staff, telling me how wonderful it is. They held true to pure professionalism and kept me focused on the direction we needed to move. What a truly awesome experience I had with the MAG TEAM at Forbin!"
- Anne Pritchard, Medical Anesthesia Group
Get the Solution Your Business Needs.