Overview
Black Hawk County Abstract and Title (BHCAT), based in Waterloo, IA, is a company with an impressive background in titles and abstracts which is a collection of legal documents that summarize the history and information of a property. This can involve deeds, mortgages, tax sale reports and estate information reports. Combining more than 140 years of experience with their commitment to efficient and accurate customer care, they have upheld a trustworthy reputation in the Cedar Valley.
BHCAT needed a website and portal to match their standard of excellence by allowing clients to contact them when needed and have a truly immersive experience. That's when they reached out to Forbin to see how our solutions could meet their needs.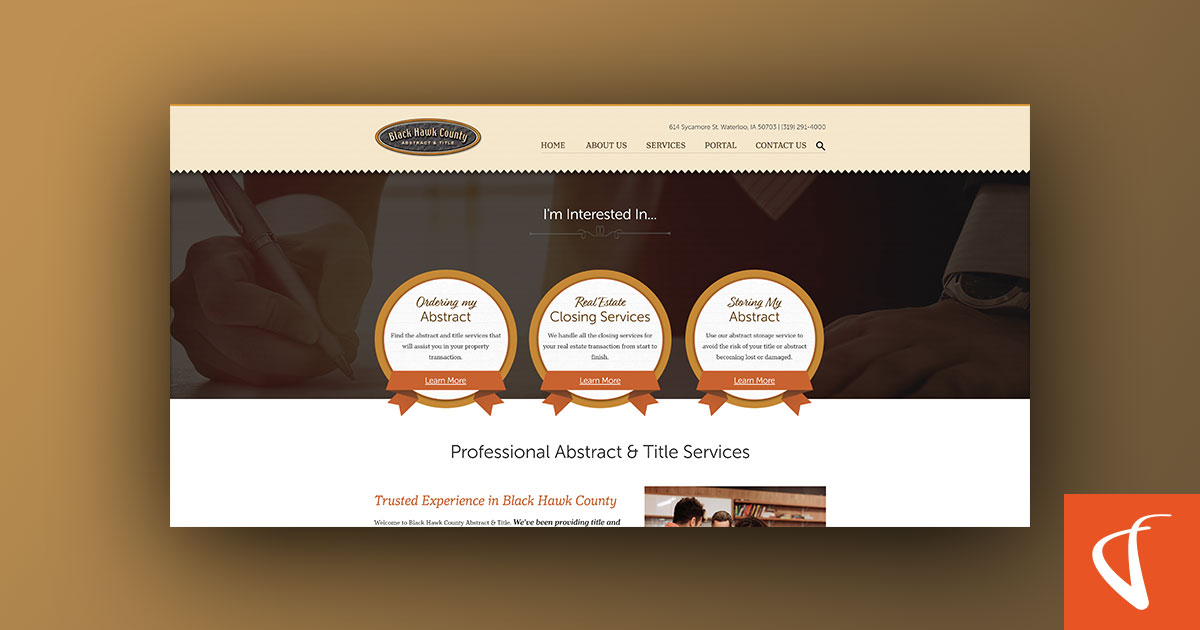 Screenshot of the homepage on Black Hawk County Abstract & Title's new website by VGM Forbin.
Project Goals:
The goal of the project was to streamline communication between BHCAT, clients and the clients' attorneys while maintaining their brand integrity. Below is a list of defined goals that helped direct the project.
Redesign Black Hawk County Abstract website to meet latest standards
Write new content to better highlight core services
Incorporate custom forms to allow for lead generation of new clients
Develop a portal to integrate directly into the new website to allow users to access, share, download and upload documents
Process & Insight
Part One: The first part of the process started with the development of their new website, which retained traditional elements that represented their long history as well as a fresh appearance. The website was optimized to be mobile responsive so no matter what device clients use to access the website, they are guaranteed a user-friendly experience. BHCAT wanted a platform that allowed clients to quickly send important documents and to be able to simplify communication between BHCAT and the clients' attorneys, so Forbin integrated a contact and services form that allowed clients to get in touch with a representative or order services online without the hassle of coming into an office.
Part Two: The second part of the process kicked off with developing and implementing a customized file-sharing portal to enhance the abstract and title reviewing process between attorneys and clients. The portal was created to match the branding and look of Black Hawk County Abstract and Title's website and is the perfect solution for abstract businesses, attorneys and others that need access to secure and efficient file sharing. This portal enabled them to share these important documents safely, efficiently and instantly. The file-sharing portal that VGM Forbin developed gave them the following functionality:
Documents could be assigned to specific people, groups, or projects
Email notifications send to people if documents intended for them are uploaded
Documents can have expiration dates
Files are very secure and a detailed log of actions (who logged in, uploaded, downloaded, etc.) is available
Clients can upload files too and files can be shared with clients, groups, projects
Because the portal was integrated into the site, it provided a good experience for the user as they stay in the same environment when logging in and are not redirected to a different website.
The Solution
With its new website and file-sharing portal, BHCAT continues to provide excellent customer service to their community. The new portal offered added convenience and efficiency to their clients and to attorneys, who can now communicate safely online. BHCAT prides itself on their dedication to the highest standards of service and their innovative technology. This new portal and website solution enabled them to stay up to date with the latest technology and continue to be a leader in title and abstract services.