Investing in a new strategic business partnership helps grow your business in alignment with your goals. You'll need to have a set of goals shared with your partner, resources, trust with a new partner and your ROI (return on investment) that both parties are made aware of. When your business is looking over their current partnerships or potential future ones, do you have any needs or issues where you need support?
This could range from any of the services:
IT Services
Managed IT Provider
Disaster Recovery Plans
Risk Assessment Audits
Website Development
Website Compliance
Online Marketing
Email Marketing
Social Media
SEO & SEM
Blogging
Does your strategic partnership have your best interest in mind?
Does your partner know the morals and values of the company? Do they have your best interest in mind? Do they understand your brand and what it represents? If they don't, it won't be healthy or successful and it will be a challenge to reach your end goals.
Does your partner provide Managed IT services?
Does your business have recurring IT issues? Is it too expensive? Is your IT contact not present? Does it take too long to resolve an issue? Or, do you receive little communication?
VGM Forbin will take care of all your IT needs, so you won't have to. You get an entire team working on monthly maintenance, security and support for less than the cost of hiring a new employee. You can get ongoing support from our IT team and resolve your issues promptly.
Does your website provider meet security and accessibility standards?
Does your website meet several different sets of compliance guidelines? If not, your business could be at risk of being sued.
VGM Forbin builds websites that are secure, accessible and exceed industry standards. Our team provides website compliance packages for all websites we create - whether you're in the healthcare industry, financial industry or fall under GDPR, WCAG or CCPA restrictions.
Does your partnership have targeted, trackable and cost-effective marketing?
Are you maximizing your marketing budget with diverse online marketing solutions focused on providing the highest ROI?
We provide these services to help you expand your customer base while bringing in more qualified leads to generate additional revenue for your business and use your marketing budgets more efficiently. We also manage your online reputation, creating a professional web presence in online directories to help you better connect with current and potential customers.
Here's our checklist of the "Dos and Don'ts" for all the things a partner should and should not be doing:
Take a moment to see where your partner stands when it comes to the services that they provide to you.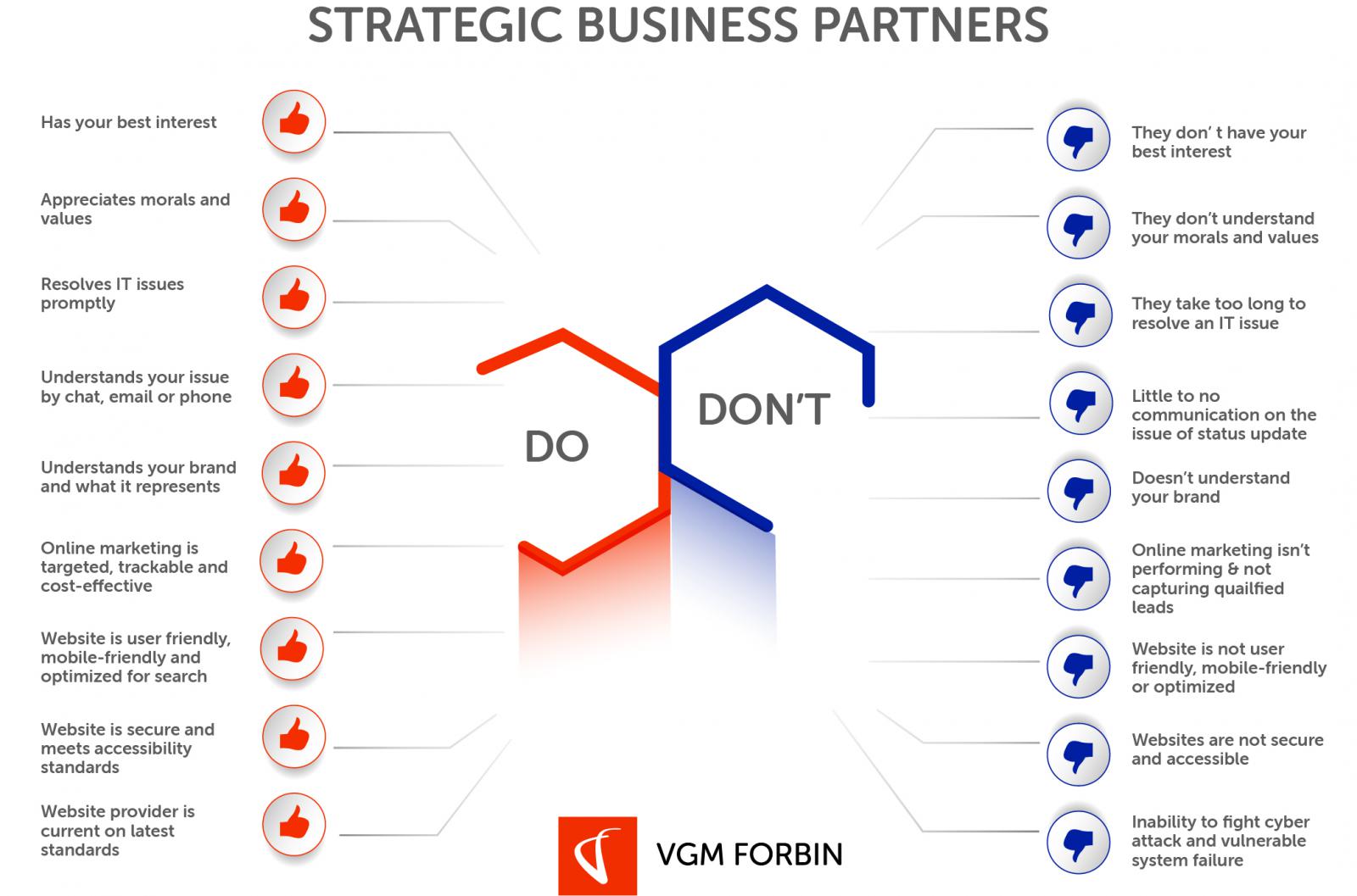 When it comes to your current or future business partner, do they pass the test?
As a trusted partner, are there any roles we can help alleviate off your plate so you can focus on what you do best? Contact VGM Forbin if you'd like to explore.