Strategic Imaging (SI) is a leading provider of digital printing services located in Waterloo, Iowa. SI, a division of the VGM Group, Inc.,came to VGM Forbin seeking a new website and custom portal that would allow their customers to shop and place orders in a one-stop digital print shop.
"When we started this project with Forbin, it was to fulfill a specific need of our customers, ordering online. However, because of the talents and capabilities of VGM Forbin, our ideas of a simple added value service will now become the premier online-service offered by Strategic Imaging. Forbin has been pinnacle in marketing our business across so many web-based platforms."

- Lawrell Wenzel, Marketing and Web Coordinator at Strategic Imaging
Goals of the Project
Redesign existing Strategic Imaging site
Highlight digital printing equipment used by SI staff
Integrate file upload system to allow customers to submit digital files for printing
Integrate photo gallery to showcase SI's work samples
Create a customized portal to allow customers to shop an online catalog and place an order
VGM FORBIN CAN FIND A WEB SOLUTION UNIQUE TO YOUR BUSINESS. FILL OUT A SIMPLE CONTACT FORM OR CALL 877-659-5241 TODAY.
Process & Insight
This process took place in two phases. The first phase centered around the development of a new marketing site for Strategic Imaging. The new site featured a mobile-optimized platform, replacing the old site's table system that did not scale well to smartphones. To emphasize the capabilities SI offers its customers, it was important to showcase every piece of equipment used to complete a variety of printing services. Finally, Forbin made updates to the photo gallery enhancement to showcase examples of the company's impressive work.
Phase two of the project was developing and implementing a customer portal to enhance their experience with SI and allow them to place orders directly from the website. Customers log in to the portal and are greeted with a dashboard that allows them to complete a variety of tasks, including:
Upload a file
Browse the SI online catalog
View PDF proofs
Consult order history
Update account info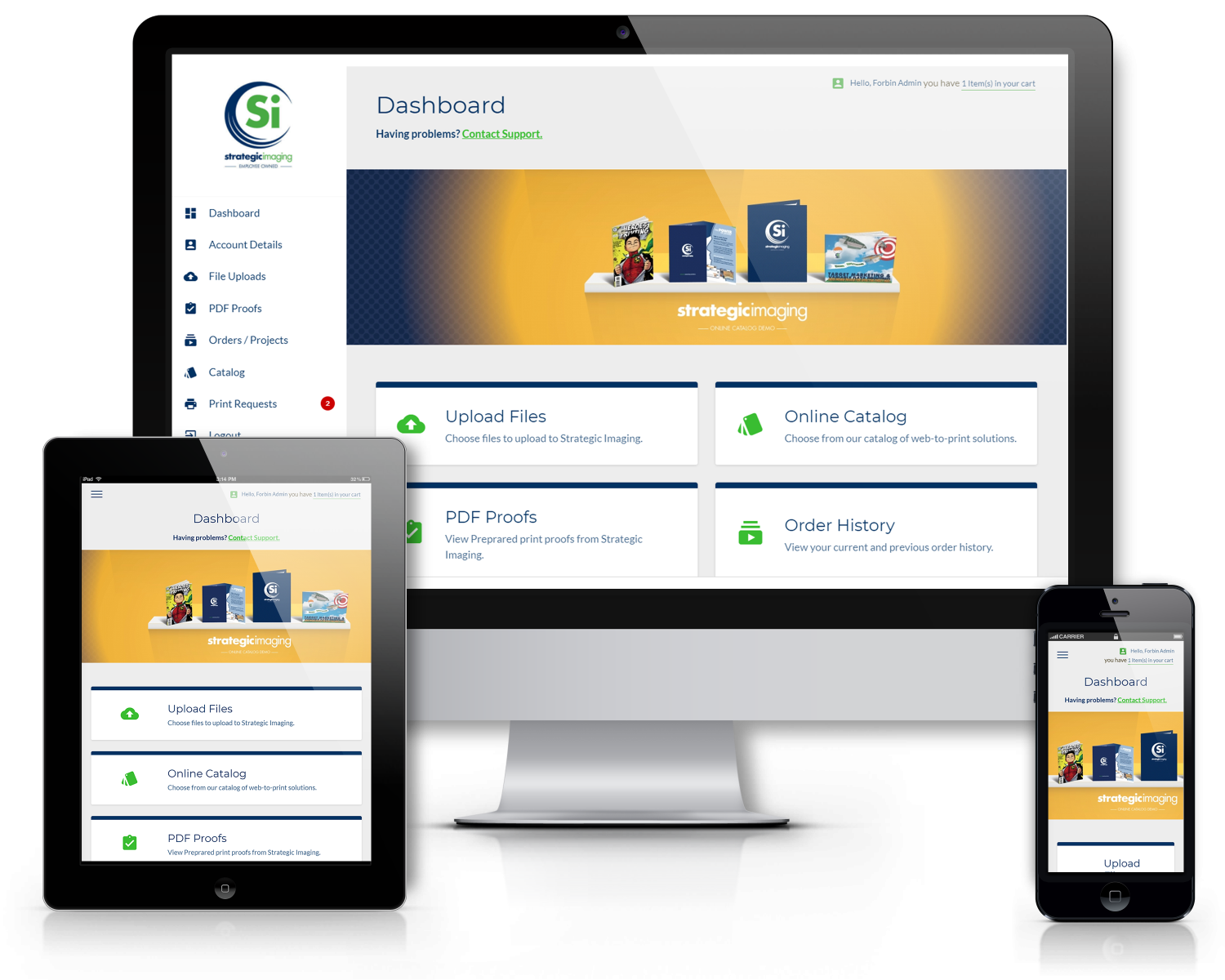 The Solution
With its new site, Strategic Imaging has positioned itself to better serve their customers by allowing them to place orders directly from the website. Strategic Imaging already offers superior customer service, and their customer portals offer added convenience that allow them to continue that exceptional service while offering the site functionality customers may expect from larger providers.
Get Connected With Your Customers.