This is Part 2 of our 4-part series looking at four stages of running a marketing campaign as a financial marketer. It picks up at the end of the previous, so you will want to read Part 1: Start with Profitability.
---
Picking Up Where We Left Off
In our first piece of this series, we hit on profitability and the role marketing plays in it. Specifically, we covered:
The idea that marketing can transform from a cost center to a profit generator;
Working with your CFO and finance department to get a profitability report for all your products and services at the very least; customer, branch and/or department profitability is a bonus;
Identifying the products and services with the most potential on your spreadsheet.
Consulting your institution's strategic plan to align marketing with your organization's path;
Scheduling a meeting with the department head or product manager to learn more about the product/service and how to make the most of the opportunity.
Time to jump into tactics, right? Not quite. To realize the full potential of becoming a profit center, we have to be thorough in our planning and strategy.
We'll continue forward with using the HELOC focus laid out in "Start with Profitability" and get into Campaign Research and Strategy Development.
---
The 8 Components of Your Campaign Research and Strategy
The success of a campaign is based largely on your planning. As part of research and strategy development, you will:
Identify target audience(s).
Create campaign objectives; or in other words, the "why" behind the campaign
Develop clear, deadline-driven goals.
Strategically decide how specific goals will be met.
Compile a list of tactics you and/or agency partners will deploy as part of your strategy.
Define your metrics, measurements for success and how often they will be reported.
Assign team members (internal or external) to execute various tactics within the overall strategy.
Identify all costs of running the campaign to generate new business.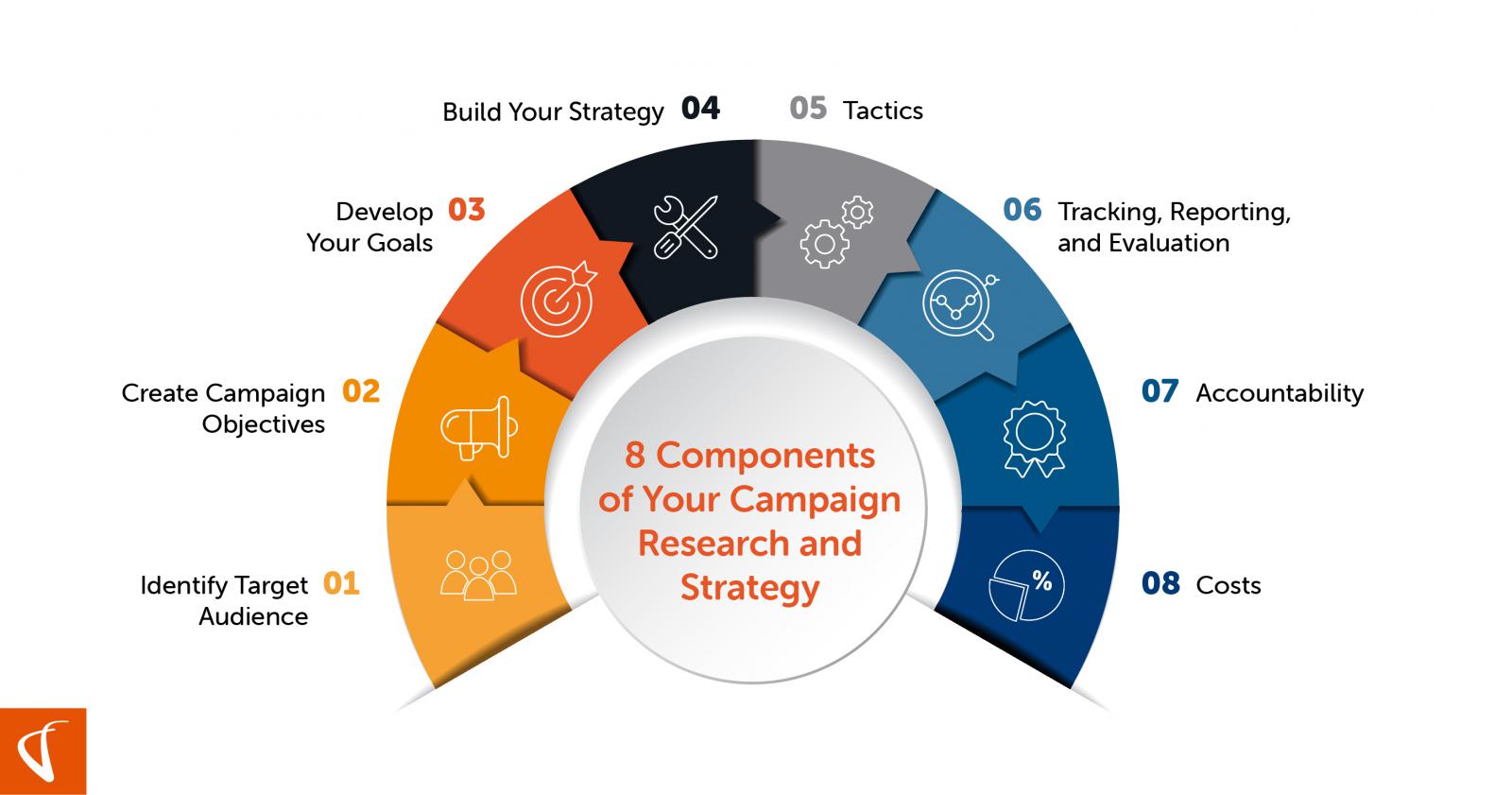 Let's dive in!
1. Identify Your Target Market
It's imperative to determine who is in need of your product, what information they are looking for and how you can solve their problem. Targeted marketing efforts will produce quality connections that will encourage the customer to continually rely on you to help solve a need.
Finding your target audience starts with your CRM, MCIF, or core system. You can then dive into researching customer demographics and buying patterns and looking at successful aspects of past campaigns. Don't be afraid to simply start Googling things.
For example, since we're focused on HELOCs, it would be good to know who uses this product. A basic Google Search shows some great information you can use, like what HELOCS are used for and financial status of those apply for HELOCs. If you have to give up your work email to get a white paper, so be it.
After all your research, you may determine that most HELOC users use funds for a combination of a large expense (ex. home remodel), debit consolidation and/or refinancing debt.
You then arrive at this target audience:
Residence status: homeowners
Time at residence: at least three years/enough time to build up enough equity on their home
Age: 30-50 years old
Credit/outstanding loans: a combination of a mortgage, auto loan and/or credit card
Household income: $125,000 and greater
Age of home: 8 years or older, in need of renovation or improvements
2. Create Campaign Objectives
A primary objective is the overarching reason you are deploying a marketing campaign. This tells you why you are focusing on a target audience and product/service. It answers the question, "Why are we doing this?" You can also create secondary objectives to speak to smaller reasons to run the campaign.
For our example HELOC campaign, our objectives might be:
Diversify our lending portfolio by growing the number of HELOCs originated.
Generate revenue by increasing the number of and total dollar value of HELOCs on our books.
3. Develop Your Goals
Your goals provide exact metrics and dates to your objectives. There must be a percent or dollar amount provided and by what date it is to be achieved.
Example:
Increase HELOCs originated by 100% / $10 million by December 31, 2019.
4. Build Your Strategy
This may seem daunting. But you already have most of it done by virtue of completing the previous three steps. Use these components and connect them with a few additional details. Don't worry about being too specific on the "how" of your campaign. Leave that for our next step.
Our example HELOC strategy would be something like the following:
Through a targeted, integrated marketing campaign, we will grow both the number of HELOCs we originate by 100% and add $10 million worth of HELOCs to our loan portfolio. This will be achieved by connecting the financial and life needs of our target audience to our product. Our goals will be met by Dec. 31, 2019.
A promotional HELOC rate will be set for the campaign in accordance with market conditions and what is competitive in our markets. Our research indicates most homeowners in our geographic markets would qualify for a HELOC. Additionally, it shows home equity lines of credit are an option for those looking for ways to finance larger purchases, consolidate debt or refinance debt.
Our messaging will focus on their life stages combined with visuals gleaned from data from our core system and/or supplemented with consumer data from one of the three major credit unions. Our distribution strategy includes both digital and print tactics.
5. Tactics
Finally, the fun part! This is where a lot of marketers start because it is what we know best. However, we have to focus on what channels will generate the best results. Without the previous four steps, it's easy to be stricken with "Oh, Shiny Tactic!" Syndrome.
We know our target audience, and identified both digital and print tactics in our strategy. We also need to consider our internal capabilities. This, along with our budget, will determine tactics where we may have to rely on an agency partner. Also, be sure there are deadlines assigned to each tactic.
In this instance, we will utilize a landing page that we will send traffic to from digital and print channels. These include:
Animated GIF and short video ads distributed on Facebook and made for our target audience.
Google search ads targeted for searches related to HELOCs
Display ads placed on websites within the Google Display Network
Display remarketing ads on websites within the Google Display Network
Gmail remarketing ads
A series of mailers designed and written for consumers within our target audience, using variable data to fit visuals and messaging to the recipient (ex. someone who is white and 45 years old would see an image and message selected for them); acquired from both internal systems and Experian, one of the three major credit bureaus.
An email series sent to current customers who fit the target audience and who do not already use a HELOC or use a HELOC but are close to their end-of-draw date.
An email series sent to non-clients who fit the target market acquired from Experian.
Marketing message on home page of website linking to the campaign's landing page.
If we want to launch our campaign on April 1, 2019, our tactics may look like this:
CRM, MCIF, or core system research; identify mail and email send list and export from system and provide to Print Shop; deadline is Feb. 21. 2019 (Marketing and IT)
Create a landing page to send traffic to for lead generation, apply online or fill out quick form to be contacted by bank staff, call campaign phone number; deadline is Feb. 28, 2010 (Agency Partner)
Creation of Facebook ads (videos, animated GIFs) and campaign setup; deadline is Feb. 28, 2019 (Marketing and Agency Partner)
Create Google search ads and campaign setup; deadline is March 7, 2019 (Agency Partner)
Create all display ads (lead gen, remarketing, Gmail remarketing); deadline is March 7, 2019
Create series of mailers, including variations based on subgroups of our target audience and mailing timeline; deadline is March 14, 2019 (Marketing, Agency Partner and Print Shop)
Develop customer email series, including email design, content, subject lines and send dates; deadline is March 14, 2019 (Marketing and Agency Partner)
Develop non-customer email series, including email design, content, subject lines and send dates; deadline is March 14, 2019 (Marketing and Agency Partner)
Create marketing message for home page of website; deadline is March 14, 2019 (Marketing)
Creation of tracking URLs to be used for various channels in campaign; deadline is March 21, 2019 (Marketing, provide to Agency Partner).
Ensure Google Analytics is set up properly for landing page; deadline is March 21, 2019 (Marketing)
Set landing page, all ads, website marketing message live on April 1 (Marketing and Agency Partner)
We now have a strategy and the tactics to make it happen. Next, we have to establish tracking and reporting standards.
6. Tracking, Reporting, and Evaluation
You may have noticed that there were two items in our tactics related to tracking results and measurement. There is nothing worse than getting a few weeks into to your campaign only to realize you a) forgot to set up any tracking at all, or b) realize the metrics you decided upon aren't indicative of whether your campaign is succeeding or not.
Based on the tactics we have in place for our HELOC campaign, here are some of the metrics we would want to know:
Facebook ads - reach, impressions, results, result rate, cost per result
Search and display ads - impressions, clicks, cost per click, click-through rate, conversions, cost per conversion and cost per click
Emails - opens, open rate, clicks, click-through rate, bounces, bounce rate, unsubscribes, opens with no clicks, no opens
Landing page - page views, conversions (clicked on link to online application, filled out the form, called campaign phone number), conversion rate, traffic source breakdown, conversion breakdown by traffic source
Mailers - calls to campaign phone number, traffic from unique URL on the mailer, determining traffic bump trends around send dates
These are what we like to refer to as "front-end metrics", meaning they are what's generating traffic, leads and conversions. You can find good benchmarks for each, even as specific as financial industry benchmarks for the different tactics. We also need to think about what happens when those leads and conversions come through on the bank's end.
For our campaign, this is referring to phone calls and lead gen form submissions. Infrastructure needs to be set up internally to track:
Phone calls from campaign phone number- did it result in an appointment being set up, walking them through the application process on the phone, or was it just informative? The key here is to provide information to be able to say, "Phone calls generated by the campaign resulted in X."
Following up on lead gen form submissions- nearly identical to the phone calls; enough information to say, "Leads from the campaign resulted in X."
Remember, it's all about being able to show whether we are meeting the goals we set up in Step 3.
Reporting Frequency & Details
Deciding on reporting frequency is also key to this step. Weekly reports can get a bit overbearing, but may be necessary if you have to report on the progress of the campaign to your executive team each week. At minimum, reports should be run or provided every two weeks. This may differ with time-based tactics like our email and mailer send dates.
It's also crucial to go deeper than numbers. Analysis and recommendations for adjustments should be an expectation in the bi-weekly reports. These can be elaborated on in monthly campaign calls or meetings between you and your agency partners.
As the campaign rolls on, we will get a better sense of what's working and what's not. Maybe our initial Facebook ads aren't generating enough leads, so we adjust the messaging. Or our landing page has a really low conversion rate, so we make the call to action more obvious. Success is born out of making adjustments over time based on the results and trends you see.
7. Accountability
Who is ultimately responsible for the success of the campaign? In this case it would be the head of marketing, with our main contact at our agency being a secondary person who could be listed as they are responsible for ensuring their team holds up their end of the responsibilities.
For our example, the following might be what we present for the accountability section of our planning document:
Marketing Director Matt Cunard is primarily responsible for the execution of this plan and its success. As our Agency Partner plays a large role in the success of the campaign, secondary responsibility falls on Donny Wilson, our account executive.
8. Costs:
In this final step, you're putting numbers to the tactics you identified. You may have a budget number in mind (or given to you) before you start planning.
For our example HELOC campaign, let's say we've been given a budget of $80,000 for this campaign lasting from April 1 to Dec. 31, or 8 months. Here's how this could possibly break out.
| | |
| --- | --- |
| Tactic | Cost |
| Landing page development | $5,000 |
| Call tracking software | $1,000 ($125/month x 8 months) |
| Facebook ad creation & setup | $2,000 |
| Facebook ad spend | $8,000 ($1,000/month x 8 months) |
| Google search, display, remarketing ad creation & setup | $4,000 |
| Google search, display, remarketing ad spend | $20,000 ($2,500/month x 8 months) |
| Mailer design & sends | $15,000 |
| Email design, setup & sends | $15,000 |
| Consumer data purchases from Experian | $10,000 |
| TOTAL | $80,000 |
Now you have a planning document ready to present to your executive team. Does this format guarantee an immediate approval? No. But it will demonstrate to your executive team that you have done your due diligence and are a force to be reckoned with.
So to review:
Use the results of the profitability exercise from "Start with Profitability" to determine your focus for this campaign.
Go through the 8-step process to put a foundation on your strategy-backed campaign idea (it may even show that your idea isn't feasible or needs revising).
Use the previous step(s) to help you develop each successive step of your plan.
Specificity on metrics, goals and deadlines is key!
Rely on other stakeholders (IT, an agency partner, your finance department) to build a coalition around your plan.
Moving Forward
In our next post in this series, we'll cover executing on our strategy. It's where the rubber meets the road and where true success is determined.