Early this summer, we were ecstatic to roll out a recognition program for employees called Forbin Employee Spotlight! Our entire team can nominate anyone that continues to go above and beyond in the workplace at Forbin. Every month, our Leadership team receives all the nominations and then the person with the most nominations is selected for the month.
VGM Forbin was extremely honored when our President announced Mark Wubbena as the VGM Forbin Employee Spotlight for the month of May 2021! Mark is the Senior UX Designer and continually helps work on custom projects that make our clients happy. In addition to taking on extra projects, Mark continues to manage design tasks for Forbin and is always meeting deadlines with a smile on his face.?He does this, day after day and month after month, and we wouldn't be where we are today without him!
We interviewed Mark and this is what he had to say:
How long have you been working at Forbin:
Started June of 2012, so, just over nine years.

What is your role at Forbin:
I do pretty much what is needed… but my primary role is Senior UX Designer, Quality Assurance and Custom Projects "Concierge."

What's your favorite thing about your job:
I have so many favorite things about working at Forbin, but I REALLY love the changing environment and client interaction.

If you could share one thing to a current client about Forbin, what would it be:
I'd probably go off on a tangent about image optimization, quality assurance and my daughter… I've had a passion for designing for the web since the mid 90's thanks to some great sci-fi movies (Johnny Pneumonic, Lawnmower Man, etc.) that were extremely far-fetched, but still very inspiring to me. Maybe talk about how far browsers have come since the days of Netscape (pre-Internet Explorer), the evolution of animation on the web, etc. I've always had a passion for seeing information come to life in an experiential way that everyone can enjoy – sight, sound, and… hahaha, even scratch & sniff.

An interesting fact you may not know about him:
I am self-taught and started web design & development in February of 1998, but I've been doing design and illustration (professionally) since 1986.

Most importantly, if you're stranded on an island what is one thing you would keep on you:
Aside from the essentials (food, water, sunglasses, sunscreen, etc.), I'd totally have a rust-proof drumset with self-rejuvenating drumheads and indestructible drumsticks. That's not technically "on me" … but that's what I'd have to keep my sanity! hahahaha.

Last, but not least: Cold or Hot Coffee?
Hot.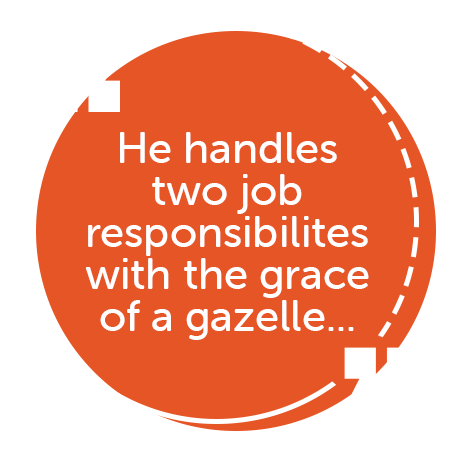 Here's why a colleague, Jade, at Forbin thinks Mark is awesome and amazing:
"He handles two job responsibilities with the grace of a gazelle. He rolls with the punches. I could never in a million years see Forbin without him involved. From the PRD side of things, he will always share his opinion and if you disagree, he welcomes your opinion with open arms. He makes my job easier to do. He is always willing to add tasks for me whenever I need them. Since he has a background with the production side of things, I think that is what helps him excel in his current responsibilities as a process lead."
Congratulations again, Mark!
It's always important to take the time to celebrate your employees! A lot of times celebrations and kudos are overlooked in businesses. How does your company recognize its employees?