How do community banks compete with regional and national banks for new customers and deposits? Axiom Bank took on this challenge in the form of a new product and asked VGM Forbin to roll it out to the marketplace.
Through a variety of digital marketing tactics and a deliberate strategy, we have so far helped Axiom Bank achieve over 6,100 downloads of the AxiomGO app and 1,300 users of their digital-only deposit platform.
4 Key Takeaways
Start small with your geographic targeting in order to work out the kinks. It can pay huge dividends if/when you go to expand your campaign's geographic reach.
Be thorough with your competitor keyword and product research. It is crucial to competing with them, especially if their products are more well-known and/or they have a larger budget.
Align all your stakeholders. The relationship between bank and marketing partner has to live on a foundation of trust that everyone is working toward the same goal.
Back-end data – data only available to the bank – has to be shared to help marketing partners understand how their metrics and date translate to business results.
Overview
Banking has long been an industry of little variation between providers. Most banks offer near-identical product lines and have been resistant to change. However, the digital behaviors of consumers and what they want from their banks has shifted in the last few years.
Axiom Bank, headquartered in Maitland, Fla., looked to capitalize on this need for differentiation and convenience through financial technology. The bank made the decision to build a product named AxiomGO.
What is AxiomGO?
AxiomGO is Axiom Bank's digital brand and a mobile banking as a service platform, offering users:
full-scale budgeting tools
account aggregation
a digital-only checking account which can be opened in the app in about 4 minutes
mobile check depositing
direct deposit
mobile P2P payments
debit card controls
mobile wallet integration
simple bill pay using their smartphones camera to expedite the process
AxiomGO customers receive a debit card after opening the digital account, giving them access to funds via point-of-sale or at over 60,000 surcharge-free ATMs nationwide.
The Business Case for AxiomGO
The bank developed Axiom Bank to build a foundation for a digital strategy for consumer banking. It wanted to meet the shifting needs of their customer base in their Florida footprint while also allowing scalable growth for core deposits outside their footprint in the future. The advent of digital-only "challenger" or "neo banks" caused the bank to develop similar strategies to facilitate its growth objectives.
Additionally, as more and more consumers expect an Amazon-like experience in all facets of their retail lives it became vital that Axiom Bank adopted a digital-first strategy offering. AxiomGO allows the bank to roll out new digital products under the umbrella of AxiomGO quickly and in a cost effective manner to customers as demand dictates.
The Work
Having completed Axiom Bank's new dual-language website in April 2017, VGM Forbin was chosen to help promote AxiomGO later that year. The campaign has gone through a number of phases, which will be described here.
We have also included the results from each of our marketing efforts in each phase, as well as a look into the decision making process. Sometimes we were right and results were great; other times we had to adjust because our assumptions turned out to be incorrect.
---
Pre-product launch, Oct. 1 – Dec. 6, 2017
Tactics used: landing page for sign-ups, email marketing, Google display remarketing ads.
Purpose and goals: This phase was focused on generating excitement for the product, teasing its release and building a list of VIPs who were likely to download the app when it launched.
We had to reach a large audience. Keyword search analysis at the time indicated very low search volume for similar types of products; those who we currently consider competitors were not as popular as they are now, and there was not widespread demand for similar products. For this reason, we opted not to use Google ads at this point in the campaign.
But the bank had a key asset for us to use instead: a database of over 32,000 customer and prospect emails. With that in mind, we created the following email flow to generate excitement for AxiomGO and get people to sign up for updates and VIP access.

We combined this with remarketing ads. While many people did sign-up, many did not. Through remarketing ads, we were able to reengage them on other websites to come back to the landing page and sign up, further increasing the size of our VIP list.
Finally, we sent two "product update emails" speaking to the various personal financial management features of the app like Saving Goals, Spending Targets and Cashflow. This was to keep anticipation up and AxiomGO top-of-mind for those who had signed up.
Results
| | | | | | | |
| --- | --- | --- | --- | --- | --- | --- |
| Send Date | Email Name | Total Sent | Total Unique Opens | Open Rate | CTR | Bounce Rate |
| 10/19/17 | Initial Email | 32,841 | 4,700 | 16% | 15.4% | 9.8% |
| 10/24/17 | Follow Up Email | 16,505 | 1,258 | 7.6% | 16.6% | 0.1% |
| 10/31/17 | Last Chance Email | 15,375 | 1,150 | 7.5% | 27.4% | 0.1% |
| 11/2/17 | Product Update | 563 | 222 | 40.6% | 2.3% | 2.8% |
| 11/28/17 | Product Update 2 | 707 | 238 | 34.7% | 8.4% | 3.0% |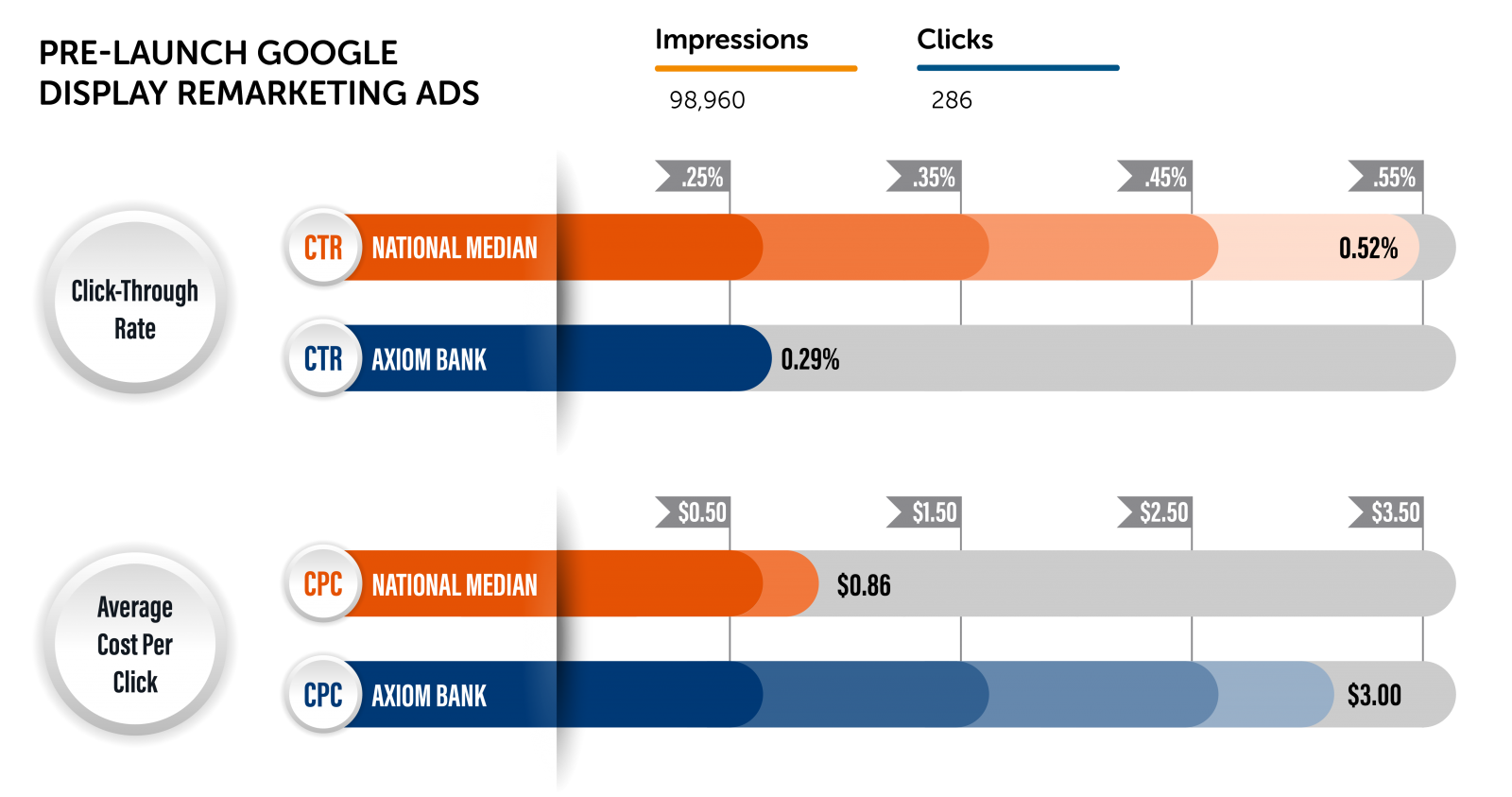 ---
Product Launch, Dec. 7, 2017 – Dec. 31, 2017
Tactics used: landing page, email marketing, Google display remarketing ads, Google Gmail remarketing ads
Purpose and strategy: We needed to get as many downloads as quickly as possible. When AxiomGO launched, we sent an email to our list of VIPs who had signed up during the Pre-Launch phase. It linked them to the landing page we had updated with links to both the Apple App Store and the Google Play Store.
Just as in Pre-Launch, we had remarketing ads targeting those users who went to the landing page but did not go to the app stores to download the app. This time we included Gmail remarketing ads; people who visited the landing page while signed into their Google account and did not convert received ads in their Gmail inbox.
Results
| | | | | | | |
| --- | --- | --- | --- | --- | --- | --- |
| Send Date | Email Name | Total Sent | Total Unique Opens | Open Rate | CTR | Bounce Rate |
| 12/7/17 | Launch Email | 721 | 288 | 41.1% | 58.3% | 2.9% |
| 12/14/17 | Launch Email 2 | 563 | 135 | 24.9% | 38.5% | 3.6% |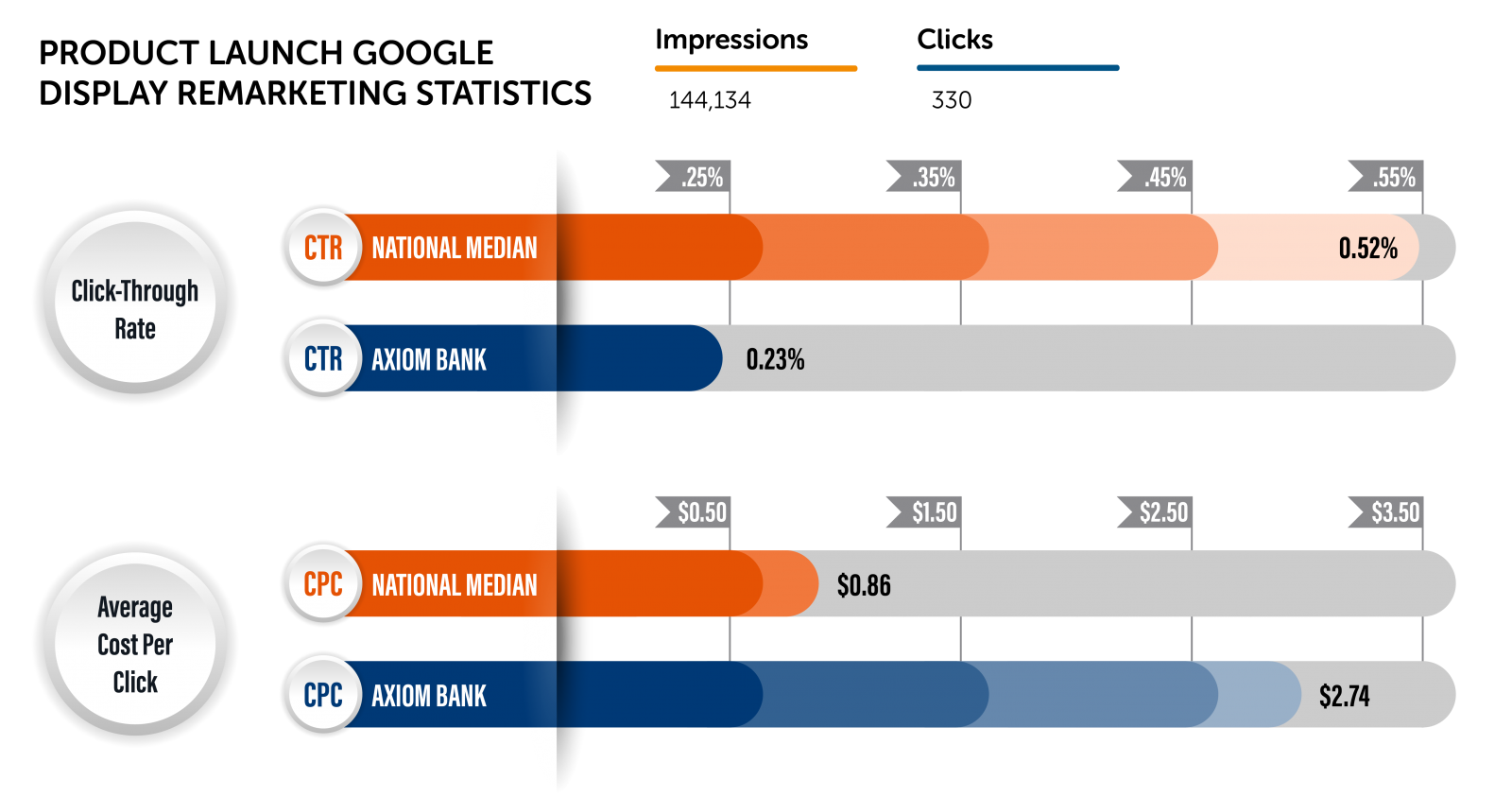 ---
Regional Campaign, Jan. 1 - May 15, 2018
Tactics: landing page, Facebook ads (single image and video), Google display remarketing ads
Purpose and strategy: It was time to promote AxiomGO to the general public. While the bank initially wanted to go nationwide, this would require a much larger budget than they were considering at the time to get an appropriate number of impressions. Without that, we would not be able determine if our efforts were successful.
There was also discussion about bringing Google Search ads into the mix. After another keyword search analysis, we presented the bank with our recommendation: search volume was just not high enough for relevant keywords. Additionally, for the few keywords that did get high enough search volume, cost per click and competition were too high to warrant allocating our budget there.
We knew we wanted to keep remarketing as a way to re-engage landing page visitors. But we still needed something to generate traffic for the landing page. We decided to move forward with the following campaign structure and targeting within Facebook's ad platform.
States targeted: Alabama, Florida, Georgia, Louisiana, North Carolina and South Carolina
Males and females
Languages: English and Spanish in separate ad campaigns
Ages: within each ad language ad campaign, separate ad sets for millennials (ages 18-38) and adults (40-65+)
Ad formats: single image and short animated videos
Results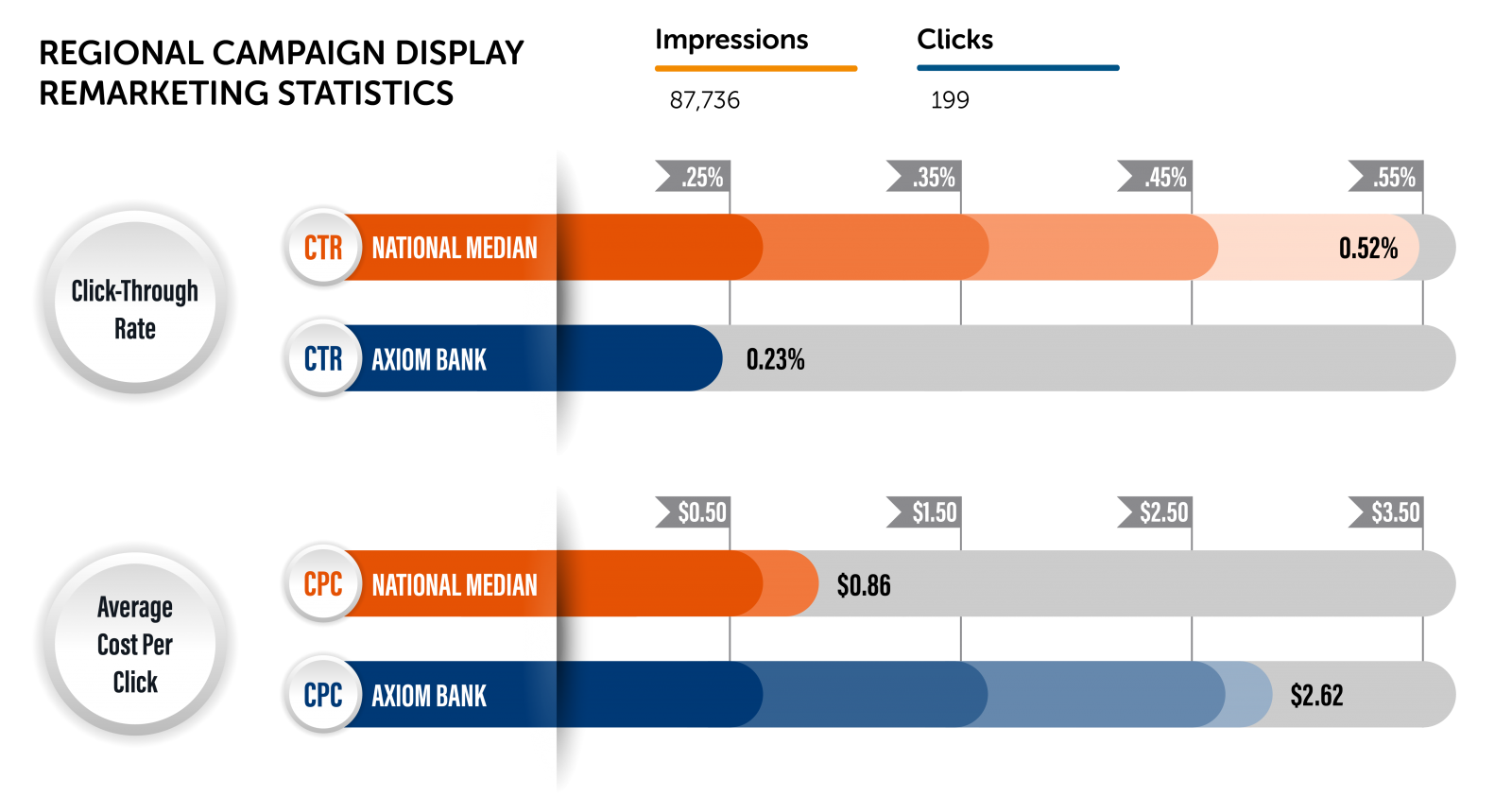 *These ads were paused on Feb. 2, 2018 for a lack of performance.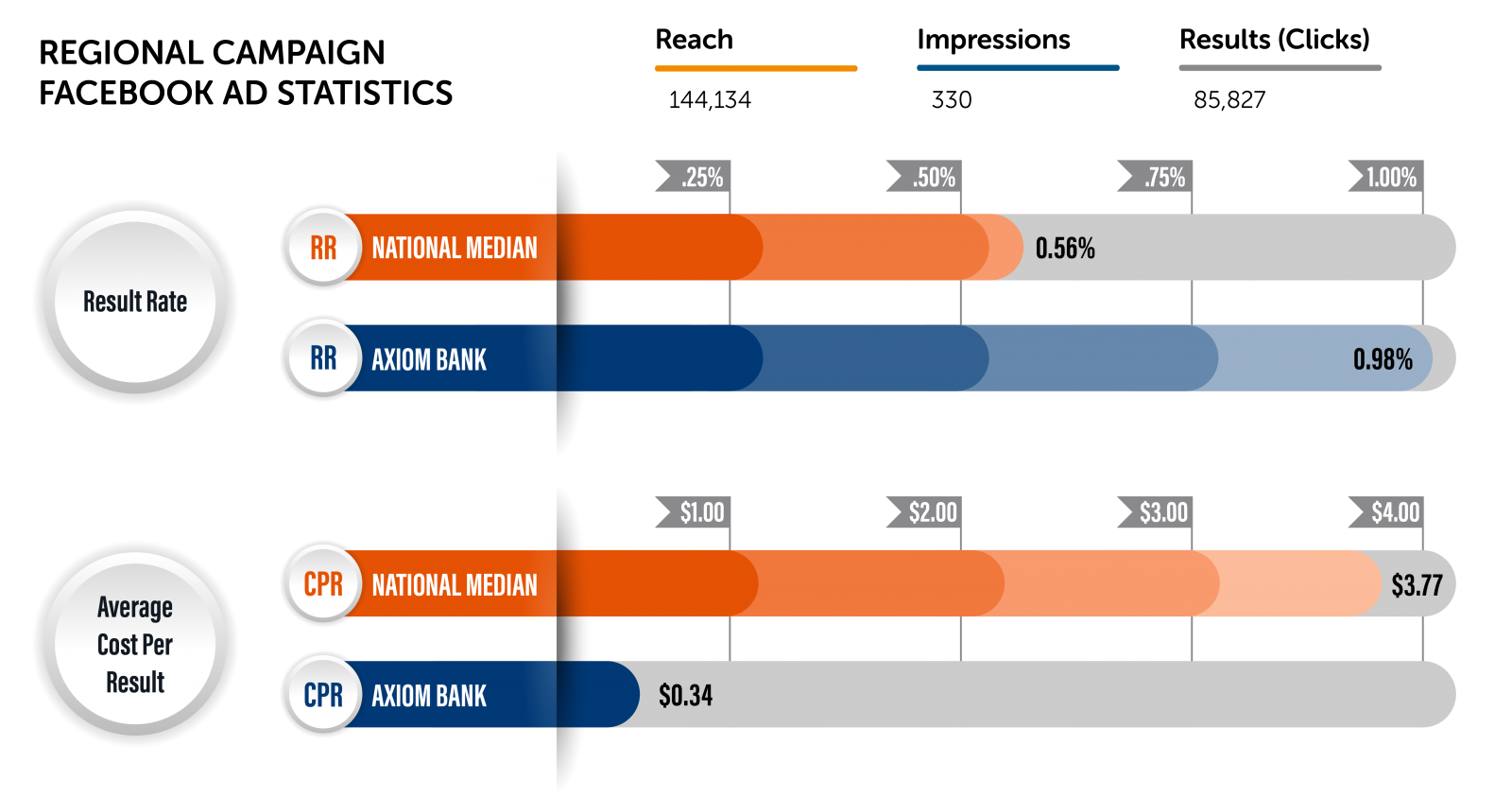 ---
National Campaign, May 15 – Nov. 29, 2018
Tactics: landing page, Facebook ads (single image, image carousel, video)
Purpose and strategy: After learning from our regional campaign, we worked with Axiom Bank to determine a larger budget that would allow us to be visible enough in a national campaign. We updated the ads to get fresh imagery and messaging in front of our target audience.
Campaign structure was as follows:
States targeted: All states except Alabama, Mississippi, Alaska, Hawaii and Louisiana
Males and females
Languages: English and Spanish in separate ad campaigns
Ages: within each ad language ad campaign, separate ad sets for millennials (ages 18-38) and adults (40-65+)
Ad formats: single image, image carousel, video
Results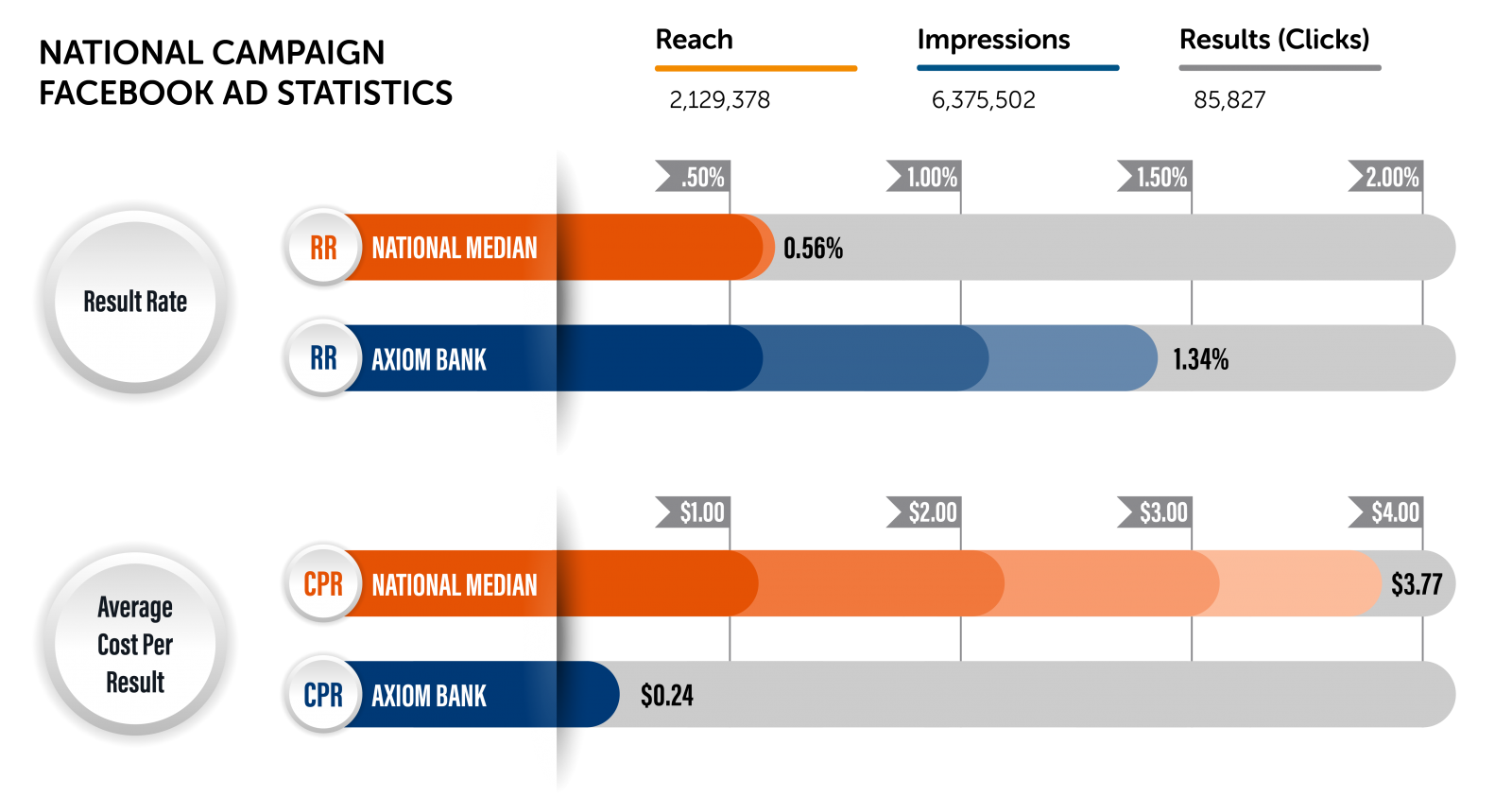 ---
National Campaign Phase 2, Nov. 29, 2018 – Present
Tactics: landing page, Facebook ads (image carousel and video), Google search ads
Purpose and strategy: a hire by Axiom Bank led to a shift in our national strategy. The bank brought on a product manager to focus only on AxiomGO. Having previous experience in operations and financial technology, he provided additional insight into competition and how we could break through.
After comprehensive competitor keyword research, we brought Google Search ads back as a tactic. Facebook ads would serve as a higher funnel tactic, a cheaper way to get AxiomGO in front of more people. Meanwhile, the Google Search ads would be focused on lower funnel folks and would be directly tied to conversions of download the app and applying for the AxiomGO checking account.
Targeting adjustments: with this new information, we made changes in our Facebook targeting. First, we eliminated the Spanish language ads and focused on 18-35 year olds only. Next we adjusted geographic targeting to cities with sizable and/or growing populations of our millennial target audience. We excluded larger cities like New York City and Los Angeles as the product manager noted higher levels of fraud attempts from those areas.
Our competitive analysis resulted in a solid list of keywords we felt were in the sweet spot between lower competition/cost-per-click, high search volume and that showed intent to take action.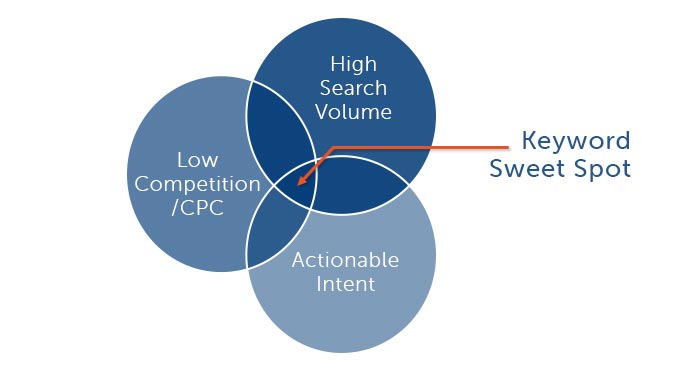 Reporting: Another HUGE benefit of a product manager is that we were able to see what our marketing efforts were actually driving in terms of app downloads, applications started, applications abandoned, credit check failouts, total new accounts and accounts funded.
This transparency allowed us to see "behind the curtain" and think of how we could influence better results through targeting, negative keyword lists and competitive keyword efforts.
Results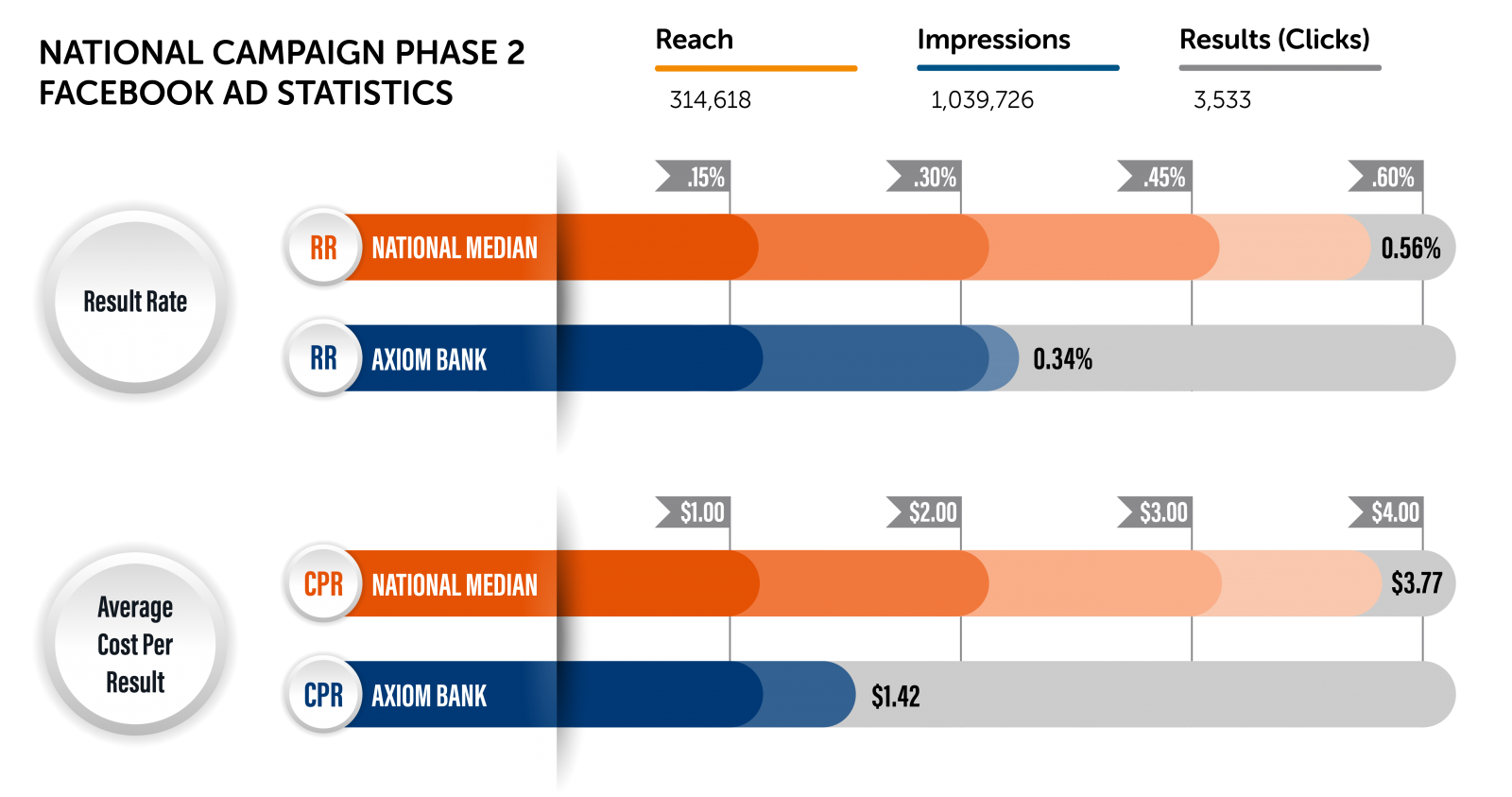 ---
What's next?
For the product, the bank is looking at a number of evolution paths for AxiomGO:
Adding a savings account to the platform
Ability to deposit cash at retailers
Bill reduction service
Loyalty referral program
As the product continues to evolve, more opportunities to promote it in relevant channels will arise. Our efforts are focused on keeping downloads and applications high while decreasing application abandonment and credit checkout failouts. This will increase the number of new accounts and funded accounts, aligning with Axiom Bank's core goals for AxiomGO.
What business results have been generated?
So far, we have generated positive brand recognition and PR in the bank's footprint and beyond since launching the product. It has enabled them to offer a better customer experience for consumer checking accounts in their retail branches, and expand the bank's brand nationally. The product currently has about 1,300 customers/users, most of which are within the state of Florida.
Why is this Important?
There are already a number of similar products from larger institutions with larger budgets competing for market share. Our success so far demonstrates the possibilities for community banks and credit unions when they think creatively about how they can compete digitally, focus their resources toward a singular goal and overcoming preconceived notions of what they "have to" provide versus what they can do well.
This campaign is important to VGM Forbin because it shows we are capable of generating more than simple "front-end" metrics (impressions, reach, clicks, CPC). Downloads, applications completed and accounts funded are all real-world metrics that translate to business results.
All of this has been possible because we've built a great relationship with the product manager and marketing and communications director at Axiom Bank. Open communication about other marketing efforts and sharing of internal data have been, and will continue to be, key to future success of this campaign and product.