As a website provider for the healthcare and financial industries, we know and understand how important it is to stay compliant with industry guidelines. After years of helping our customers uphold the highest standards for security and accessibility, we're excited to formally announce our Website Compliance Package!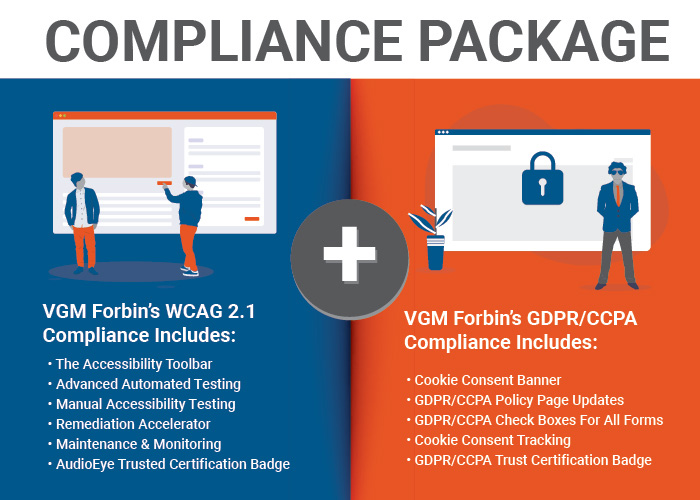 The NEW Compliance Package incorporates both GDPR/CCPA and WCAG across your website for full compliance with the latest industry standards in web development.
WCAG - Making Websites Accessible for All Individuals
As you're aware, Web Content Accessibility Guidelines (WCAG) are the gold standard for digital accessibility. While WCAG is not a law in the United States, it helps websites adhere to different accessibility laws and regulations, including the Unruh Act.
While we do our best to ensure every website meets WCAG standards when the site is launched, regular work is necessary to maintain accessibility as the website is updated. That's why we now offer a new WCAG package, so you never have to worry about falling short of accessibility standards.
How Our Websites Meet WCAG Standards:
Perceivable content – all users are able to perceive and understand all digital content and information featured on a website.

Operable content – all users are able to easily navigate information throughout the website.

Understandable – all users are able to follow, read and digest digital information displayed on a website.

Robust – digital content is compatible with assistive technologies and should evolve with assistive technologies.
For ongoing maintenance after development and launch, VGM Forbin will deploy a service via our third-party partner, AudioEye.
The AudioEye Managed Service for WCAG 2.1 Includes:
The Accessibility Toolbar
Advanced Automated Testing
Manual Accessibility Testing
Remediation Accelerator
Maintenance & Monitoring
AudioEye Trusted Certification Badge
GDPR - Protecting Individual Privacy in the EU
General Data Protection Regulation (GDPR) is a standard and regulates how websites collect data and notify website users of data collection. Websites must allow customers to opt into or out of collecting their personal data, request that a business disclose what information has been collected, request changes or deletions of data and clearly state privacy policies on the site.
VGM Forbin will integrate the following to meet GDPR/CCPA Compliance:
Cookie banner to obtain clear consent to use cookies on site visitors
GDPR/CCPA content will be incorporated into policy pages to clearly state how long personal data will be retained and how it will be utilized
GDPR/CCPA text and check boxes will be incorporated into each form so that clear consent can be obtained to use data collected on the site
Cookie tracking will be implemented across the site for user control
GDPR/CCPA Trust Certification Badge
HIPAA - Protecting You and Your Patients Online
HIPAA's priority is always protecting the patient, and this includes the patient's personal health information (PHI) that's stored online. Because home medical equipment providers store information about an individual's medical needs, doctor referrals and medical equipment they use, it's imperative that this information stays private. If your HME business already has a website with VGM Forbin, your website is already HIPAA-compliant!
How Our Websites Meet HIPAA Guidelines:
All forms follow HIPAA-specific form guidelines

Data can only be collected by entering a password or key

Email notifications for form submissions do not include PHI

All reports require passwords to access

Back end of the website automatically logs you out

Data stored on our off-site servers is encrypted

We will sign a Business Associate Agreement (BAA) as your website provider
To help websites remain in compliance with WCAG, GDPR and CCPA, VGM Forbin has combined these compliance requirements into one comprehensive Compliance Plan. If you're interested in a quote, fill out the form below! Don't forget to sign up to receive our Web Compliance White Paper download below, too!