By Ana Dobrilovic, VGM Forbin Web Marketer
Introduction
When it comes to social media success, personalized posts can make all the difference. Today, we examine a mastectomy company in Texas and how staying active on their social media and utilizing personal photos contributed to an increase in engagement, impressions and page likes! The following will detail four different ways that Women's Health Boutique dominated health care social media through VGM Forbin's Social 2.0 program.
Posts That Make a Difference
When it comes to social media, photos can make all the difference. People are curious by nature, so it comes as no surprise that the posts they like the most on Facebook typically feature real-life people they may or may not know engaged in various activities. In a world where posts disappear with the swipe of a finger, it is pertinent that you get the message you want across, clearly and concisely.
Women's Health Boutique does an excellent job of creating personalized posts that their audience loves. They often provide relevant information, mention upcoming events or post photos and videos of their staff!
Through our Social 2.0 program, Women's Health Boutique receives rich content posts that link to relevant and engaging articles, as well as posts focused on increasing website traffic and conversions, but most importantly—all of those posts are accompanied by images. Using high-quality images, such as stock photography, can significantly increase your engagement but personalized photos persistently perform the best! This is where Women's Health Boutique excels as they utilize high-quality photos of their owners and everyone on their staff.
A Picture is Worth a Thousand Words Impressions
Creating personalized posts can greatly impact your social media success. It doesn't have to be a masterpiece to grab someone's attention. Engaging content, combined with a good quality photo, is all it takes to capture a potential client's interest and drive likes and traffic to your page or website.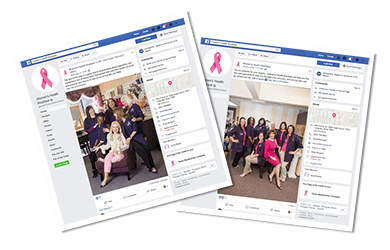 For example, the posts shown, from Women's Health Boutique, are two of their best performing posts as they feature photos of their staff in a group together, smiling and happy, with copy about what services they offer and how they can help.
An article from Forbes reinforces this idea that images help increase engagement, meaning they garner more likes, comments and shares. People are drawn to images or things they can relate to and therefore like images where they get a glimpse into your business, its employees and can put a face to your company.
Keep it Authentic
Authenticity goes a long way – posting a photo of your team members celebrating a birthday or holiday, participating in the community or at an event trumps posting a stock photo any day. This was true in the case of Women's Health Boutique. When posts that featured stock photography were compared to personal photos or ones within the business, they didn't perform quite as well. Stock photography is still a wonderful and necessary tool for providing high-quality images to your Facebook followers, but it becomes twice as powerful when intermingled with personal photos.
Additionally, tagging employees in those personalized posts is guaranteed to garner more engagement, as friends and family members of the employee are likely to share, like and comment on that photo. If they do like and share, that often shows up on their news feed and mutual friends will see that as well. This will increase the number of impressions your posts have as the­y are seen by more people!
Along with photos, videos are another social media hit! When announcing Facebook's new algorithm update, they mentioned that videos do perform best and with Social 2.0, Women's Health Boutique is getting a short and sweet custom video every quarter showcasing something about their business. Read on to see how their numbers stack against national averages for health care companies.
How the Stats Stack Up
Let's take a look at some numbers. The following data represents October – January for their social media content and performance. It will show their increase in net likes, impressions and engagements in comparison to the previous period of four months.

As you can see from those increases, more people are seeing their posts, engaging with them and liking their page as a result! We also compared their statistics to the health care industry's national average for click-through rate and cost-per-click.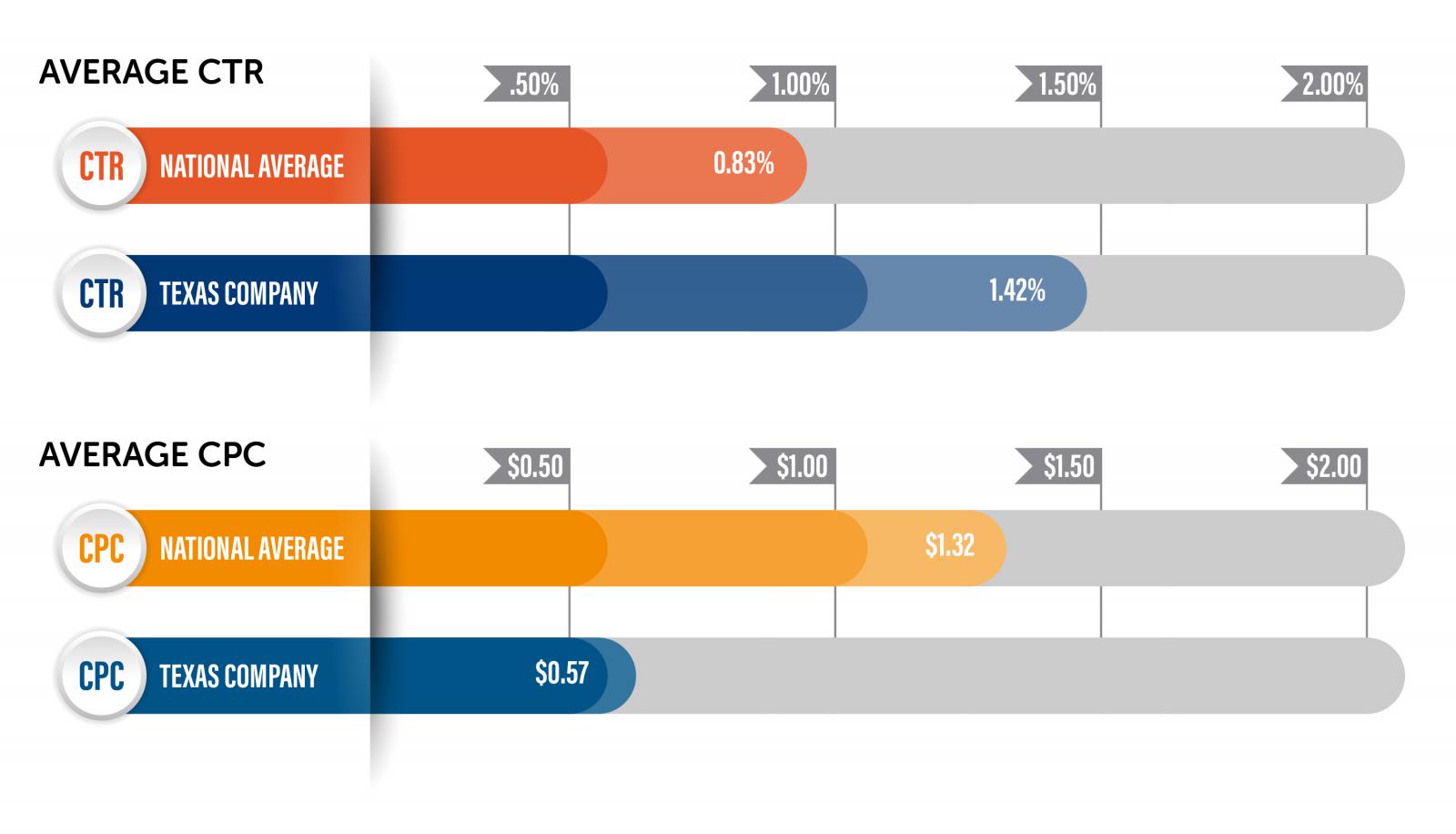 As you can see, Women's Health Boutique is experiencing a higher click-through rate at a lower cost-per-click. However, not every campaign is a success, so we do keep track of our lows to learn from our mistakes. Our client's lowest CTR was 0.25%. This, in turn, allows us to achieve even higher numbers in the future. For example, their highest CTR was 5.51%!
What is Social 2.0?
Social 2.0 is VGM Forbin's leading social media program. With Social 2.0, clients are getting focused content designed specifically to address the goals they have determined are important to them. Through rich content, personal and stock photography and alluring calls to action, these posts are geared to boost engagement, spark interest and increase your page likes!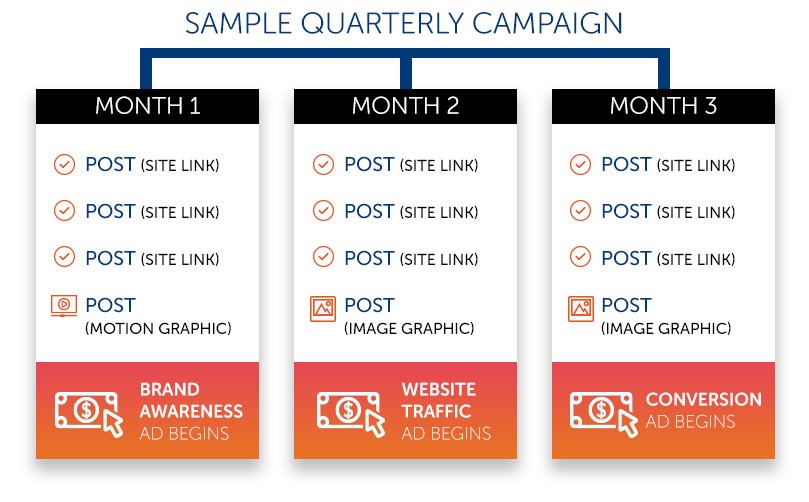 Women's Health Boutique saw success upon entering into this program. Their numbers increased steadily and the content written and selected by Forbin Web Marketers and Social Media Strategists helped immensely. When those posts were coupled with the beautiful photos provided by Women's Health Boutique, they experienced an impressive increase in engagement, and their impressions and page likes went up too!
"Using VGM Forbin for monthly social content on our Facebook page has been fabulous! Before, different employees would post, while some months we did great and some months we posted nothing. With Forbin's Social 2.0 program, our posts are not only consistent, they are personal and appropriate for our customer base, as well as customized to our products and individual boutiques. In the beginning, we gave them nothing and their posts were still consistently great. We've learned that the more personal content we give Forbin, the better our posts and responses are. It's amazing how something we thought we didn't have time for, has become something we look forward to each month," describes Vicki Jones, President/CEO of Women's Health Boutique.
The Social 2.0 program and their own involvement on their Facebook page are the two major reasons behind the success of Women's Health Boutique's social media success. While there are many factors in play when it comes to having a successful social media platform, providing high-quality, personalized and stock images with compelling copy is a good start!
Key Takeaways
Personalized posts perform better – photos of staff, community engagement, or stock images
Personalized posts increase engagement and impressions
Facebook favors posts with quality images or videos included
Staying consistent keeps your followers engaged and expecting new things
Give us a call at (877) 964-6875 to talk about your social strategy today!
Sources:
https://www.wordstream.com/blog/ws/2017/02/28/facebook-advertising-benchmarks
https://www.forbes.com/sites/yec/2017/12/12/six-surefire-ways-to-increase-engagement-on-your-social-media-posts/#25eb2e3010e7
https://newsroom.fb.com/news/2018/01/news-feed-fyi-bringing-people-closer-together/